Louna presented new album "Polusa" in Nizhny Novgorod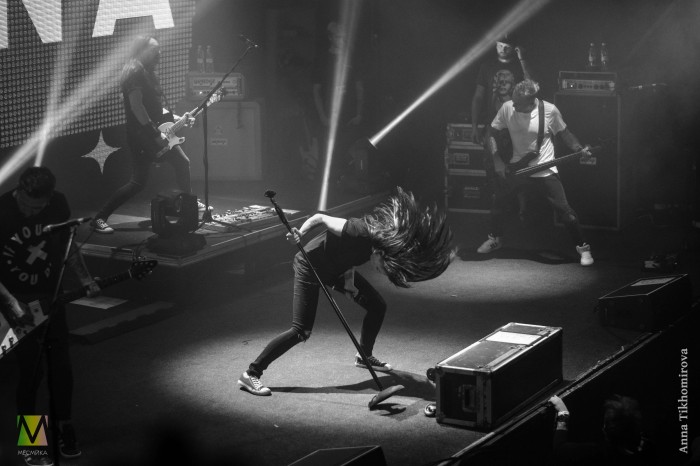 Photo source:
Anna Tikhomirova // MESIKA
6 October club Milo Concert Hall Nizhny Novgorod heart beat in time with the band Louna, because Nizhny Novgorod is an honour to be the first to hear the new live album of the group called "Poles".
A new concert Intro group recalled trap track, after which he appeared on the scene, Leonid Kinsbursky (drums) Ruben Kazaryan (guitar), and then sounded the opening riff of the song "Pole" which came on the scene Sergei Ponkratiev (guitar) and Vitaly Demidenko (bass). Hall pierced the roar of drums and shrill vocals Lusine Gevorgyan, after which she
appeared on the scene. The hall was filled with the energy of freedom and rock.
Lusine said that it is quite difficult to sing a new album and sometimes she slurred. Despite this the song from the new album was perfectly executed.
In addition to new songs hall was forced to stragetist and such time-tested hits like "Fight club", "1984", "Storming the heavens" and "Mother". There was also three songs from the previous album "brave new world": "Louder and fiercely", "Those who in the tank" and "Spring".
The songs "Eternal" and "Fire" was so rocking that rocked almost everyone in the hall, but the most rocking song from the new album was the song "Choice". On the song "1984" people in the audience were greatly shaking hands to the music. During the last song, "Mother" Lusine made steep stardiv.
It should be noted that not without technical problems. In the moment when he was supposed to sound just guitar Reuben before the chorus, she sounded.
At the end of the concert, the band said goodbye with the students, made a joint photo on the background of the hall and handed out sticks, cetnici, mediators, and techniques of the group was given a guitar Ruben viewer.
Author Anton Gromov