Animation: well, but all as always!
Notice
: Undefined index: wrap_width in
/myarea/web/mesmika/public_html/templates/boxed/content/default_item.tpl.php
on line
49
>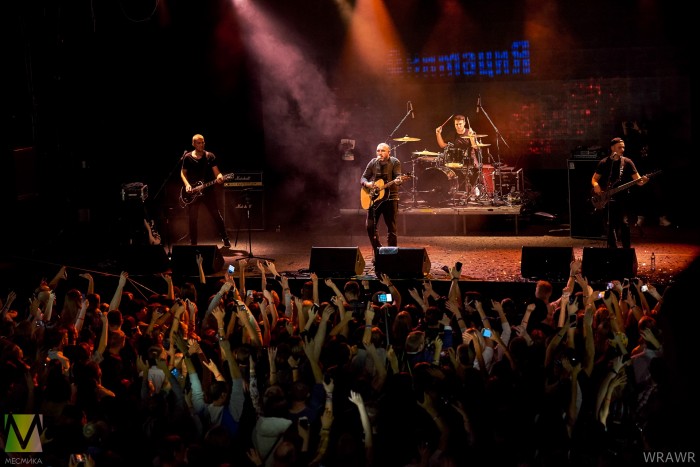 Animation is one of the most popular groups right now. At the time, "roly" sounded from each iron, and microwave, and the ironic "I love my homeland like" it's time to include in the text of the anthem of our country, so this phrase reflects what is happening in the minds of Russians. Social lyrics, and ironic allusions and hints, soulful poetry to the accompaniment of the Russian rock at its best - for all of these reasons and many others the group love in all of our vast territory from Kaliningrad to Vladivostok. And the geography of tours includes dozens of cities.
And best of all - even despite his busy schedule, it is evident that the musicians approach each concert with a soul, and Constantine himself Kolesov periodically arranges acoustic solo. And if you haven't been to them - I advise you to definitely go.
The Moscow concert took place at the tradition in GREEN Glavklub CONCERT HALL. At this time the group decided to abandon a video setlist, and screens the entire concert burned minimalistic Intro with logo Animation. The concert began more than cheerfully familiar "Heroes", after which you played the song from the last yet of the album "surrounded by enemies" - "Login". In General, the focus was initially on more familiar tracks - the same "One day" and "Cranes", which traditionally takes the whole room in unison, and the coast only helps.
Then made a break to "talk" and, in particular, to the shooting of the video for a new song. To talk about it we will not, and Kostya asked not to publish the recordings from the concert. To say only that the song came out great, waiting for the album impatiently!
Then played a lyrical "Return", under which the hall was lit by lanterns mobile. In GlavClub it always looks epic, and given that people gathered more than enough for one of the biggest venues in the capital - and simply beautiful.
Not without its little surprises - played "Route", which according to the Bones haven't played for four years. "Things" and "Trams" - two songs from "surrounded by enemies". Then followed a whole block of the old and proven - "Vanka" and played after all their favorite single, "Lenin", which in meaning and the music is downright complementary. "City", "#neparasti", "homeland" - where the same without them.
Nice to see that the group continued to love and expect from her the same material, which is only capable she is. The musicians closer to the release of a new album, after which all of us definitely waiting for the next tour of Russian cities, where all will be able to recapture the energy of "Animation" and the output from the concert to herself to ask yourself once again polyvore "I love my country, like".