Stone Sour in Saint Petersburg: when a side project love is not less than the base
Notice
: Undefined index: wrap_width in
/myarea/web/mesmika/public_html/templates/boxed/content/default_item.tpl.php
on line
49
>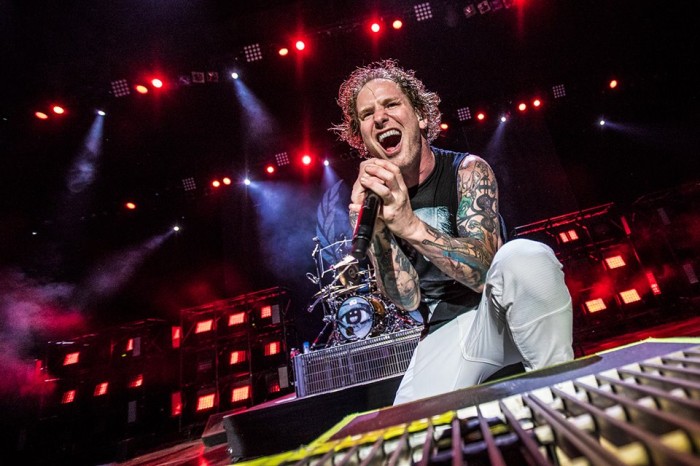 Notice
: Undefined index: wrap_width in
/myarea/web/mesmika/public_html/templates/boxed/content/default_item.tpl.php
on line
49
>
Photo source:
https://vk.com/stonesour
Tell Corey Taylor and immediately pick up: "Slipknot"! So, Yes not so. Even before Cory with drummer Joel Econom moved to a project that has become one of the most important in rock music is zero, they founded the band Stone Sour. And even if for a few years on it, seems to have been forgotten, but soon the musicians returned to the individual from Slipknot creativity. Now, though Stone Sour is a side project, but happily collects large halls around the world. In St. Petersburg it was A2 Green Concert - the largest club ground in the city. It was there on 14 November and there was triumph group, just not the second level.
Not everybody who came could understand that, but the opening act was attended by a DJ-set. Actually, was the easy cutting of the world's rock songs, in principle, creates a nice background and mood for the audience. Needed something to cheer up the audience, which came a few thousand. The hall was almost Packed, the line snaked, it seemed, without end. Time the group the future time to move to the Ice Palace.
To nine in the evening on stage, finally himself appeared Corey Taylor with his team of musicians. Although "appeared" is the word here too soft. Broke, flew up, smashed all around the sea of its energy. Under this mood of the concert and went. Fans instantly picked up the vortex and made a real warm welcome. They all sang along with the vocalist, arranged Mosh pit (in a crowded stuffy hall for four thousand people"!) and the ardent cries of supported conversations of Taylor. And that recustomise, spoke words of gratitude, both in Russian and in English. To accurately understand each.
Corey himself constantly ran into the scene with the Bazooka. No militarism - on the audience throughout the concert were falling colorful confetti.
Played Stone Sour songs from different albums. The Intro was YSIF, then Taipei Person, Do me a Favor. Well, after the first three sounded Knievel Has Landed, Bother, Tired, Get Inside, Reborn and a few songs from previous albums and most recent - Hydrograd.
Sopping wet Mike Corey Taylor flew in the hall after this crazy performance. It is unknown how turned the fate of the world rock culture, do not come on at the time, Taylor Stone Sour. Perhaps they would become as much known as of now Slipknot. But everything went wrong, and it's great that you can hear different aspects and expressions of the musical mind from an excellent and favorite artists. Especially when you see them in Russia honour and a rarity.
Author Juliana Benesova