Blue Man Group in Moscow: the blue show
Notice
: Undefined index: wrap_width in
/myarea/web/mesmika/public_html/templates/boxed/content/default_item.tpl.php
on line
49
>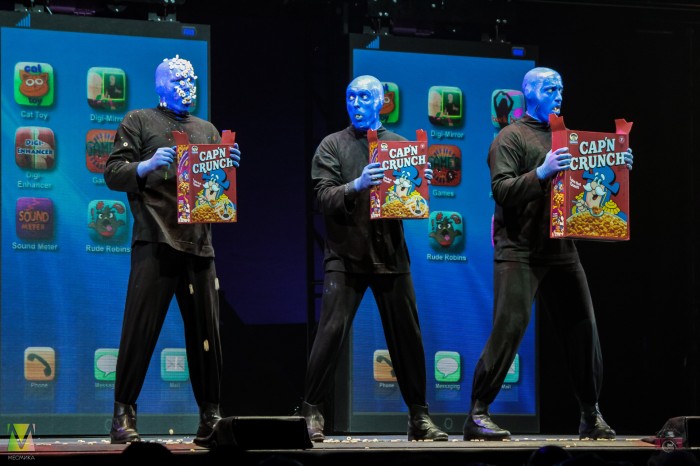 Notice
: Undefined index: wrap_width in
/myarea/web/mesmika/public_html/templates/boxed/content/default_item.tpl.php
on line
49
>
Photo source:
Tatiana Sankina // MESIKA
On the Small arena of Luzhniki hosted the show Blue Man Group, the popular new York performance band acting in the image of the blue aliens.
Blue Man Group has existed for over 30 years and during that time became popular in America and Europe. Their fixed performances in the US and touring around the world saw more than 35 million people in 25 countries, but in Russia, the band performed for the first time.
"Blue men" as they are called fans, really managed to surprise Moscow. The show began even before the artists appeared on stage: first, a bright orange running line urged people "not to engage in sexting, however, and not to extradite Americans state secrets," then to greet in the hall of Sergei Zhukov. And then a viewer by the name of Svyatoslav in front of the whole audience proposed to his girlfriend Olga. She said Yes and hugged the newly made groom to thunderous applause.
Only then appeared on the scene three bald character with blue heads and started to play with "fire" drums and downpipes, fooling around and doing tricks - for example, one using the whole scene scored another 35 in your mouth s'mores marshmallows
Throughout the show, the actors constantly interacted with the audience, was walking down the hall for a joint selfie and made fun of them. One guy "blumine" made "gastroscopy", showing his "inner world" across the hall, and the girl from the front row sat at the table, fed with a spoon and gave her a box of food from the table.
Another spectator, volunteered as a volunteer, handed me a painting with his own portrait. This guy had to be dressed in a protective suit, pour blue paint, hung by the feet and carefully imprinted on the canvas...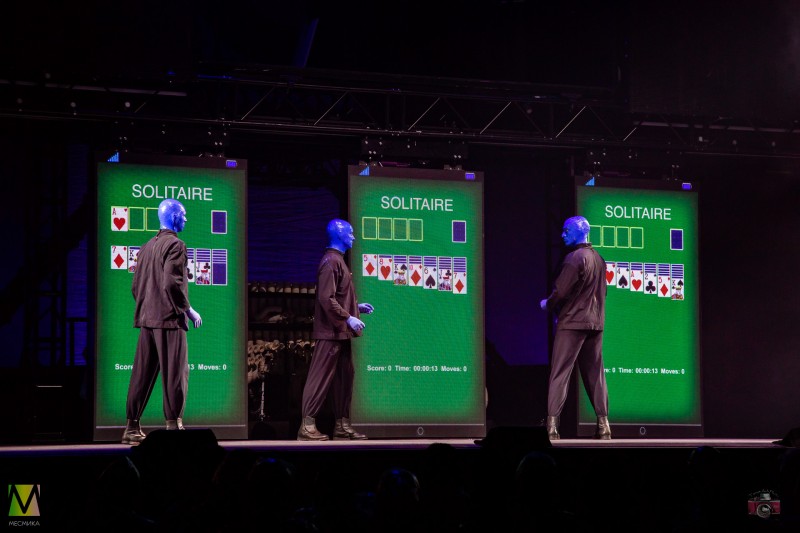 In the speech "Blumenau" all mixed up: contemporary art, acting, rock music, paper disco, the endless jokes on himself and over the room. And even a little Russian notes: at some point, "blue" put on bald heads kokoshniks and cheerfully played Kalinka-Malinka.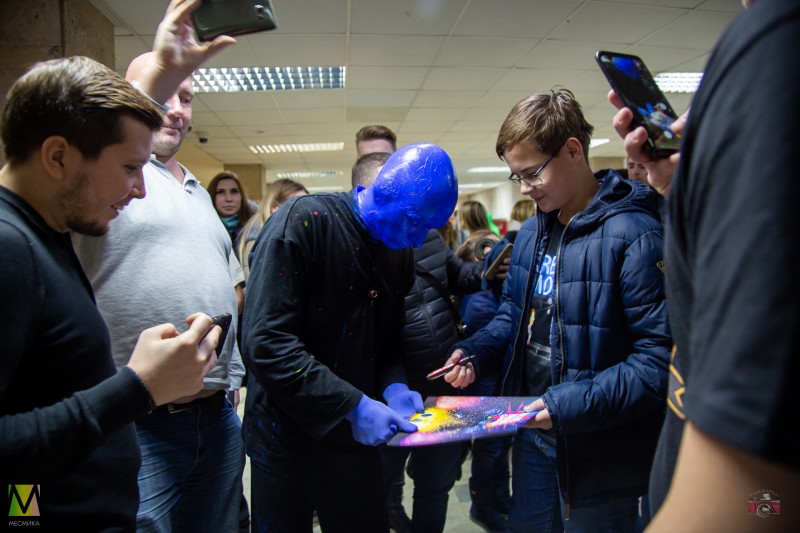 After the concert, during a photo shoot with the audience, they told a bald "blue men" that the headdress in the winter are out of date. And tried one of them a real warm fur hat. The one remaining in the image (during performances of "blumine" don't say a word, communicating with gestures and body movements), said nothing, but, certainly, agreed. Still, the Americans came to Moscow for the first real frost...
Author: Maria Frolova