British hardcore architects returned to Russia in December
Notice
: Undefined index: wrap_width in
/myarea/web/mesmika/public_html/templates/boxed/content/default_item.tpl.php
on line
49
>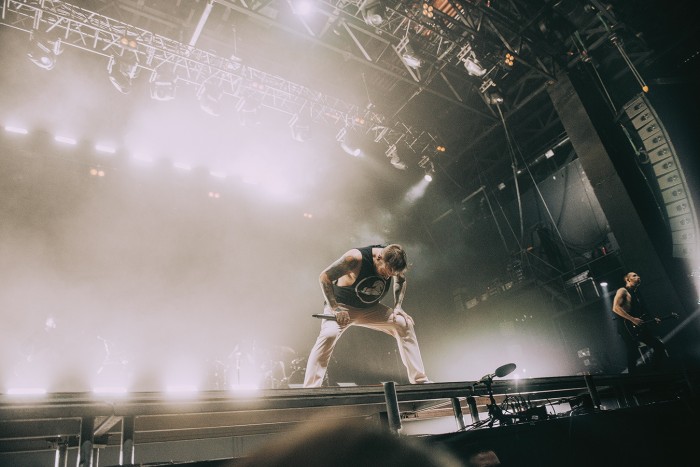 Notice
: Undefined index: wrap_width in
/myarea/web/mesmika/public_html/templates/boxed/content/default_item.tpl.php
on line
49
>
Photo source:
Дмитрий Бубонец
4 December in St. Petersburg club A2, a concert of British metallers Architects. The rock band returned to Russia to present his new eighth album, "Holy Hell", released on November 9, 2018.
The band was formed in 2004 and plays in genres: metalcore, matcor, melodic hardcore. Currently the band members are: Sam Carter (vocals), Adam Christianson (rhythm guitar), Alex Dean (bass guitar, keyboards), Dan Searle (drums), Josh Middleton (lead guitar, backing vocals). During the existence of the group of metallers for a long time could not decide on the title and not just changed it. The first option was "InHarmonic", but this name did not last and was changed to "Counting the Days", but it did not stick, later, the team changed its name to the current "Architects". Aggressive and emotional vocals, intertwined with the dynamic guitar parts – this is Architects.
Concert "Architects" took place in the A2 club is one of the major concert venues of St. Petersburg. By 19:00 at the entrance of the club lined up a decent place, all fans wanted to get inside. The run began a little later than expected, but it didn't ruin anyone's mood. All together rushed to the club to occupy the most convenient place.
The concert started closer to 21:00 with the song Death Is Not Defeat ("Holy Hell", 2018). Without another word the group took the stage, and the silence broke powerful guitar riffs. The audience enthusiastically greeted the perpetrators of the gala evening and welcomed them with applause and enthusiastic shouts.
British hardcore played from the new album "Holy Hell", 2018 such songs as: "Modern Misery", "Holy Hell", "Mortal After All", "Hereafter". All the musicians performed 16 songs, the concert lasted an hour, which to the sophisticated audience seemed very small. After a short break the guys came back and played an encore of the songs "Doomsday" and "Gone With the Wind". In addition to the songs from the new album from Architects, I thought "Downfall", "A Match Made In Heaven" (album "A Match Made In Heaven", 2016) than very pleased with their fans.
Throughout the evening in the A2 was remarkable atmosphere. Architects again met all the expectations placed upon them. The fans liked the performance artists that they did not want to let go of the group and the most experienced went to the back door hoping to get a selfie and an autograph, but, alas, their expectations were not fulfilled. Tired musicians jumped in the car, thanked fans for the warm reception and went on.
Author: Anastasia Welikada