Pionerlager Pylnaya Raduga: album MALO in Tambov
Notice
: Undefined index: wrap_width in
/myarea/web/mesmika/public_html/templates/boxed/content/default_item.tpl.php
on line
49
>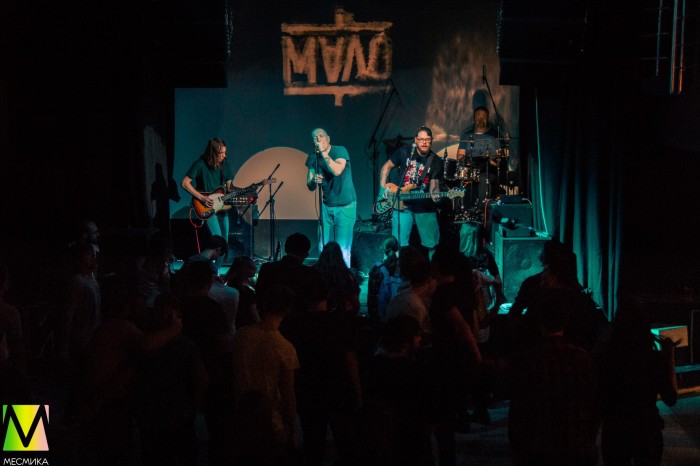 Notice
: Undefined index: wrap_width in
/myarea/web/mesmika/public_html/templates/boxed/content/default_item.tpl.php
on line
49
>
Photo source:
Nicholas Gomtv // MESIKA
15 Dec 2018 in Tambov club "Balamut" by the group "summer Camp Dusty rainbow" with the presentation of the fourth album, "LITTLE", which was released this year.
The soloist of group is not the first time coming to Tambov. Last year he played in the Art-cafe "DC" with an acoustic concert.
This time musicians from Tver arrived in full force: Alexey Rumyantsev — vocals, Alex mogilevski — bass guitar, Sergey Zakharov — drums, Nikita Mirza — guitar. Before the creation of the PPR group members played in the project "Empty set", after the collapse of which some time was in different bands.
The concert began with the song "Horse". Then followed the first part of the speech. At this time, the fans were able to listen to and sing songs from the new album. Sounded songs like "King of hearts", "Gas", "Used song." In the second part the artists performed well-known to all the old songs: "December", "Oligophrenic", "Flower" and others.
The speech came the loyal fans of the band. Throughout the concert they sang along loudly, drowning out the sound of the speakers, jumped and danced to Groovy music. From the outset, the fans staged a wild slam. The support group supported the musicians with his energy. The song "Horse" one of the fans wearing horse mask. After she arrived at the feet of the soloist.
Throughout the evening atmosphere was in the club atmosphere. Original music by the group "summer Camp Dusty rainbow"left nobody indifferent. Sonorous post-grunge got fans who will be eagerly waiting for the next concert "musicians from the province", because everyone was "SMALL".
Author: Daria Rodionova
See photos at the link.