"Epidemic" celebrated its birthday in Moscow on December, 16
Notice
: Undefined index: wrap_width in
/myarea/web/mesmika/public_html/templates/boxed/content/default_item.tpl.php
on line
49
>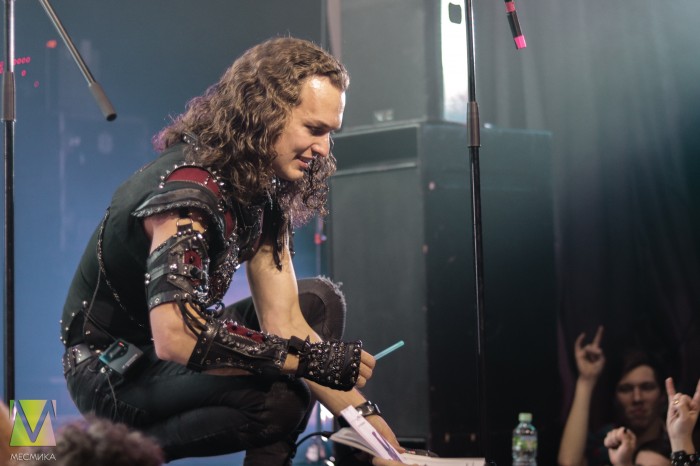 Notice
: Undefined index: wrap_width in
/myarea/web/mesmika/public_html/templates/boxed/content/default_item.tpl.php
on line
49
>
Photo source:
Alexander Gordeyev // MESIKA
Group "Epidemic" celebrated his 23rd birthday with a concert in Moscow. The event, held December 16, was sold out and the fans bought out all the tickets.
The hall was full of people and the queue outside stretched for almost a half hour. People rubbed their hands, frozen noses, took selfies and joked that has to be "almost like Metallica.
The opening act for the "Epidemic" was made by horror-punk band "Tales of the black city." After a forty-minute speech appeared on the stage themselves. The audience greeted them with enthusiastic roar and shouts of "happy birthday!".
Performance by the group "Epidemic" started with a song "play your way". Continued with songs from other early albums - "Kingdom of tears" and "Life at dusk". And then pleased the fans with a cover of the song I Want Out group Halloween.
In General, the program is a two-hour speech became known and loved by fans of "Epidemic" songs from all records and the main musical piece from the new metal Opera, has been worn on tour.
The concert was attended by special guests, former members and friends of the group: Ivan Izotov, Pavel Okunev, Alexander Timonin, Ruben Karazhan, Kirill Nemolyaev and Elena Minina. One of the most beautiful and elegant performances of the evening was her duet with drummer Vladimir Krivenkov, they performed the song "Coming for you".
A touching look follow-up group "of the Rider" - people in the audience turned on the flashlights on mobile phones...
At the end of the concert with his "congratulatory" statement was made by the founder of the group Yuri melisov: "To our birthday came the closest people, I'm glad it's you, ' he said. – I sent a photo, video as you're standing there on the street, we were worried that no one froze. Therefore, do not get sick, buy hats! Actually, I think it went well today!"
Following the presentation of the "Epidemic" will be held in St. Petersburg on 22 December, the guys will present metal Opera "the Legend of Cantarana". And soon, in April, will once again perform for the Moscow fans – those who don't have time at the winter metal show, or is already waiting for its repetition.
Author: Maria Frolova