Troll Gnet El - Holiday Pohmelyaynen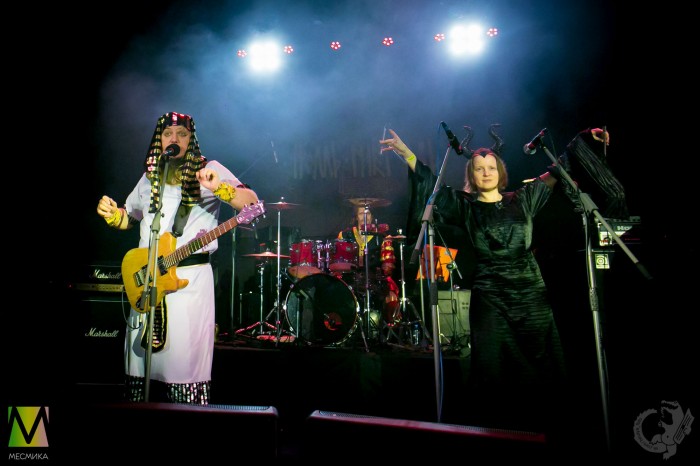 Photo source:
Nicholas Birula // MESIKA
3 January, "Opera Concert Club" held a traditional postnovogodny "Holiday Paholainen" from the band black Dahlia murder. On the stage reigned a very festive atmosphere – all the musicians dressed in colorful costumes and was surrounded by Christmas trees. Konstantin Rumyantsev depicted the Egyptian Pharaoh, and the charming violinist Maria Lebedeva organically looked in the suit of snow maiden. The musicians did wishes in his humorous style: "Happiness and love! And all the bright and unfiltered!".
"Trolls" in social networks pre-announced a competition for the best carnival image among the audience. The winner could get three bottles of beer "Troll in the Moss of THE" brewery "Knightberg". Basically, the audience was limited to a cap of Santa Claus. But two candidates have been particularly striking: a young man dressed as a purple dragon and wrapped lighted garland, the girl with the bike helmet. Maria Leonova admired the ingenuity of the girl: "Very practical to the slam. Strange that no one have thought of it before!". The winner was chosen by fans of the band with loud applause and they did become more festive purple dragon, but the prize was divided between both candidates.
All because I wanted to feel like a rock star and sometime jumped off the stage into the crowd? Fans of "trolls" was such a unique opportunity and everyone can participate in this attraction. At the end of the concert "trolls" thanked the audience for the fact that together they defeated this disease as "Paholainen" and spoke about several important events. March 9, welcomes the audience to the club "Opera" in concert dedicated to beautiful ladies, which will be held in an unusual format will be filled with 30 songs on the applications and expected 10 secret guests. In addition, the band urged their fans to prepare for their 20th anniversary which they will celebrate in the fall.
Author: Barbara Letyagina
See photos at the link.