Svidanie band in the club 16 tonns
Notice
: Undefined index: wrap_width in
/myarea/web/mesmika/public_html/templates/boxed/content/default_item.tpl.php
on line
49
>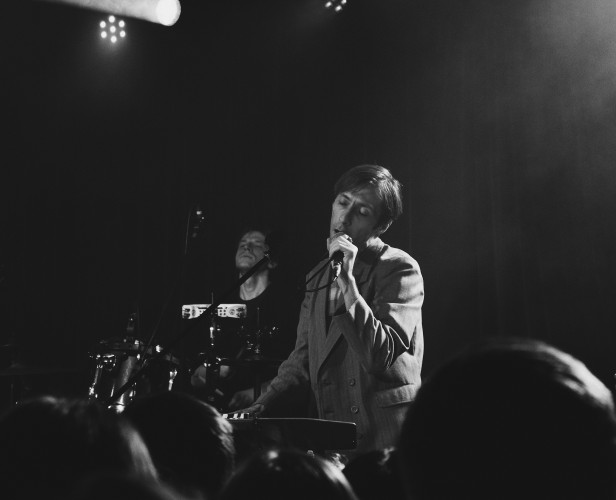 Notice
: Undefined index: wrap_width in
/myarea/web/mesmika/public_html/templates/boxed/content/default_item.tpl.php
on line
49
>
Photo source:
Anna Yusufi
On 28 December at the legendary Moscow club "16 tons", a concert group with an interesting and unusual name "Date". The group, unlike the club, has not yet become a legend, but over the last year has rapidly gained momentum in its popularity among young people and lovers of indie pop music.
In the poster this time has been declared "big winter concert". Concert in all senses turned out great, because it lasted over one and a half hours, and the hall was really a lot of people. Everyone who came to the beginning of the concert, not in advance, were forced to stand in the last rows. But this fact does not affect the atmosphere in the hall. There was a feeling that people really came out. Most came in pairs. Very beautiful girls, young people dressed in their best sweaters for men, added to the event with solemnity and elegance.
Interestingly, before beginning, while everyone was waiting for the actors, it was possible to notice that girls and young people who came alone, was not shy to get acquainted with each other. Therefore, we can say that the name of the band is more than justified.
Your concert indie pop band started with the song "I'm your cat", which is in the hall seemed to know everything: "When she went to bed, he chased her in his dreams. A handsome young man with a flower..." Almost all the lyrics in songs like this, not too complicated. They are so light and charming in its lightness and even a kind of intimacy that this bribe, and you do not notice how at the second chorus starts to swing along with the audience, singing musicians, even if yesterday did not know about the existence of such music. Ease and intimacy are two key features of the music group "Date." Great sound and competently delivered light emphasized the group level.
Most of the songs in the program were selected from the last two albums, but sometimes you could hear quite Mature songs such as "Love" - one hundred percent hit, "Goodbye", adopted by the listener with enthusiasm; or, for example, the song "Young" became the title track of the album released in 2015.
And of course, not without "Perfume", a song which is already a year as crazy as those who have been listening to the guys, and those who just learned about their work and fell in love with him. It is possible that due to the capacious and Frank and pleasant music at the crossroads of indie and chill-out: "Your perfume is driving them crazy..." the track has become so popular.
Things got a little crazy this evening. The audience left the hall in high spirits and a bit of a relaxed state. Yes, the music group "Date" as if intoxicated and enters into a light trance. Look, if you haven't heard. Better yet, go to a concert!
Author: Natalia Chibisova