Bryndin: Presentation of the lightest album of this winter
Notice
: Undefined index: wrap_width in
/myarea/web/mesmika/public_html/templates/boxed/content/default_item.tpl.php
on line
49
>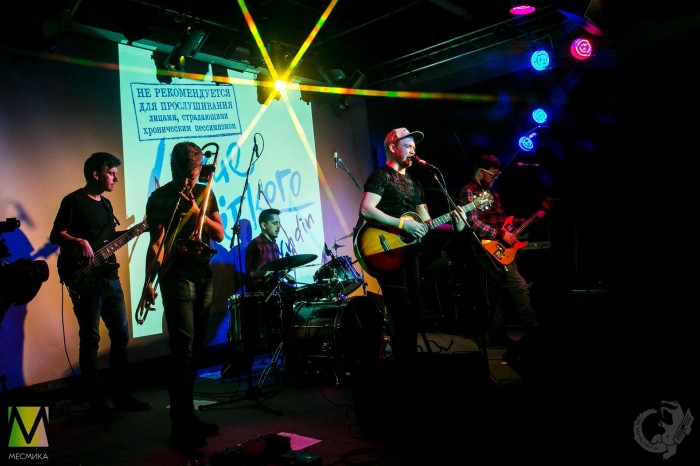 Notice
: Undefined index: wrap_width in
/myarea/web/mesmika/public_html/templates/boxed/content/default_item.tpl.php
on line
49
>
Photo source:
Nicholas Birula // MESIKA
Heroes of the new time are those who can on Sunday evening in twenty below will force myself to go out, go to the club to hear the presentation of the album is not yet the city's best known musician. And the most heroic this presentation can even play. So on January 20, in sharply pomolodevshimi Saint-Petersburg group Bryndin under the leadership of Alexei Bryndina presented in the club, The Place their new album, "a breeze".
Pleased with the choice of venue for the concert. The club is very warm and cozy, soft sofas, a swing bar where you can sit and where it is in audible speech. The place club, which is nice to be in. To infuse for a relaxed and positive way.
And tune into it the audience was ready. Initially, all warned - the album is contraindicated suffering from chronic pessimism! And reviews, published in the official community group talked about the same thing: "this album is one hundred percent positive vibrations that can bring the St. Petersburg normal spleen the most hardened hypochondriac.".
Do not think that the music project Bryndin exceptionally lightweight and unobtrusive. Picks up Alex, the author, and serious issues. And quite competently alternating heroic, and relaxing songs.
Literally the day before the presentation, the leader of the group celebrated his thirty-second birthday, too, as mentioned. In the end, the tradition to celebrate the holiday concerts is not new in the musical environment.
A song about the inevitable signs of age, was also present. However, it's quite easy, and ironically sounded.
Visuals as an important part of any speech, also not in the side left. The musicians, according to information in social networks, consider themselves followers of the traditions of the great Akhmatova, Mandelstam, Blok, and others. The echoes of this, perhaps, be too bold comparison, found, among other things, videoinstallation.
The audience actively supported the group. Some people could even sing with them.
Thin and nervous addition to the usual alignment of the music is the party-trombonist. His game is very carefully and competently integrated into the music picture songs.
During the concert, the musicians with the audience actively communicated, repeatedly thanked for coming to support. Came out warm and sincere, because the presentation is particularly important each positive response, everyone in the room.