Mars needs lovers in Moscow
Notice
: Undefined index: wrap_width in
/myarea/web/mesmika/public_html/templates/boxed/content/default_item.tpl.php
on line
49
>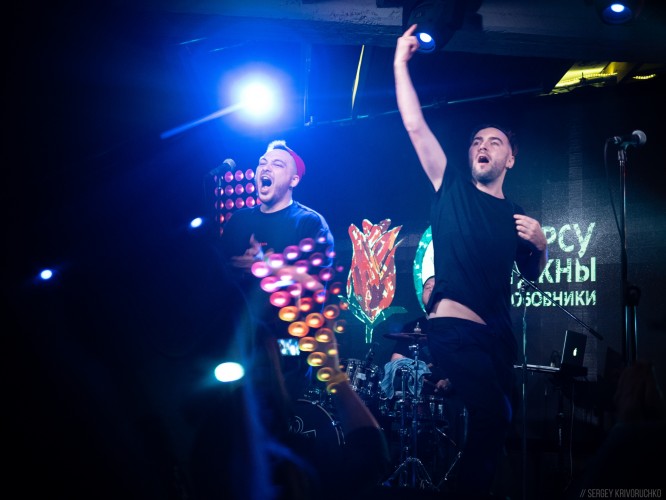 Notice
: Undefined index: wrap_width in
/myarea/web/mesmika/public_html/templates/boxed/content/default_item.tpl.php
on line
49
>
Photo source:
Photographer: Sergey Krivoruchko @krivoruchko_sergey
Last Thursday, January 17, in the "Mumiy Troll Music bar", a concert - presentation of album "the Compass rose" Ural indie rock band "Mars need lovers."
Waiting for the concert to people at the tables and at the bar with interest considered and came to the club guests, sipping cocktails through straws. The band is not the first time coming on tour in Moscow, and the audience warmly greeted the children, nonetheless it was felt that among those who came there recently to get acquainted with creativity of the band new fans. The title song setlist N2O knew many in the audience, but not all. Maybe that's why hall had some time to shake.
The second song "Meteor" fans as if he remembered that he had come to dance and what to sing at a concert not only artists. It is understandable, catchy rhythms of the indie band with the provocative title "Mars needs lovers" can not leave indifferent anyone close this musical direction.
As promised, "Mars needs lovers" mixed tracks from the new EP with older songs. Unusual mix. Sounded became the favorites in the playlists of fans, "Astronauts", "the Wind" and other songs, do not leave your sense of doubt in the accuracy of the choice of the name of the team. From the first moments and throughout the concert I felt the unity of musicians with the audience. The leader of the group and met eyes with everyone who came that day in the "mummy Troll", asking them questions, and making the faces of the youngest partygoers standing in the front ranks with their parents.
The event lasted almost two hours. The listener did not want to let stars off the stage. At some point, the musicians admitted that they can't remember more songs that could now perform for them. When the guys left the stage, fans and groupies for about two minutes waiting for bis and waited. Performing the song "homeless" guys happy and went to the dressing room. As happy the fans were scattered and subway cars.
What it a group of "Mars needs lovers"? Space, because it seems its rhythms can teach to dance even aliens. Free, because it has a lot about dreams and flying. But perhaps most importantly - this music is about love, not just lovers, in the lyrics if you listen, you will notice many of the lyrics - honest and heartfelt.
Author: Natalia Chibisova