Rokko Ramirez: I try to separate my work from other things
Notice
: Undefined index: wrap_width in
/myarea/web/mesmika/public_html/templates/boxed/content/default_item.tpl.php
on line
49
>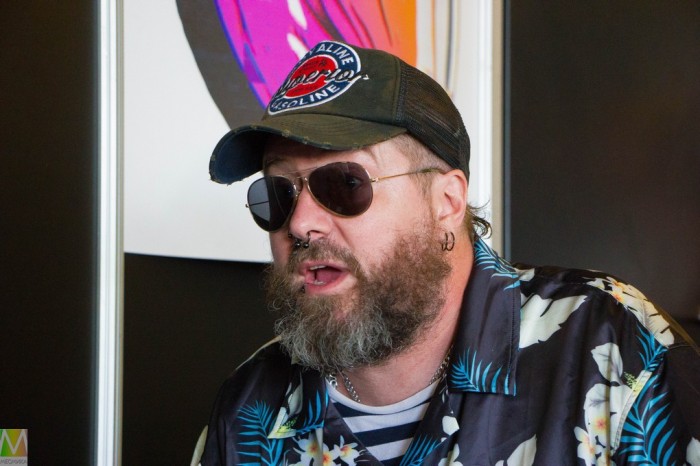 Notice
: Undefined index: wrap_width in
/myarea/web/mesmika/public_html/templates/boxed/content/default_item.tpl.php
on line
49
>
Photo source:
Roman Gorbunov // MESMIKA
Rokko Ramirez is Austria's hardest DJ in the world. In the end of 2018, his new album "No World Order" was released. The album is a lyrical historical confrontation with war, loss and destruction, embedded in tough bombastic sounds. He is always a welcomed guest in different countries including even a China. We talked to Rokko at FM4 Frequency in Austria after his night show and learnt about his DJ view, tattoos and Wildstyle & Tattoo Project.
You are the hardest DJ in the world. When you decided to be a DJ did you think to become the hardest DJ or this idea came to you later?
This was kind of process, you know, because when I started DJing there was only vinyl. There was a very small club. So when I started to DJ on weekends, on Friday or Saturday, there were also metal people there and they all wanted to hear Metallica, Nirvana and all this staff. So I decided to make a special sign, "No Nirvana, no Metallica, please". May be on some weekends there was a girl DJ and she always played Rocky Horror Picture Show's Time Warp Song song so I made a sign like "No Metallica, no Nirvana, no Rocky Horror Picture Show". And from this point on it was like the kind of hard rock and metal stuff. For me it is important to play also clubs as well as also live shows. Being Rokko Ramirez is a bridge between the bands and the song, so I don't see me specially as a DJ, I see myself a little bit as an entertainer. Maybe also as a singing guitar player like played in a band before, and having also my own songs. You can say it's a kind of Avici or David Guetta, on the other hand, on the other point of the route. Not in this electro scene but in the metal and hard rock scene. And so this is the point of hardest DJ.
- You had a very great success in China. Why do you think... China?
- Well, maybe because I look like Buddha [laughs].
- Wow, I understand.
- Because it's like... That's what we've been talking before. All these people, all this EDM scene, but they don't know this rock scene. It's same in China, they have very big clubs in Shanghai for example and they also play EDM.
- What kind of club? I thought it was open air.
- Yes, several open airs as well. There is a famous club in China, I don't remember the name, but you can to DJ there if you have played at Tomorrowland for example. There is no chance to play there, unless you have your name at Tomorrowland. They don't have this rock scene, so people are curious about this. This is a very important thing. And as I told you, this combination of rock'n'roll, DJing and a little band, you know what I mean now, because you've watched the gig yesterday. This combination is very important to have success all over the world. Because people don't know this. They know only typical EDM and DJ style, but they don't know rock'n'roll.
- It's something new to them.
- Also people see the style, the tattoos and they are interested in the case, why you made this or that tattoo. If I am on the plane, all people grab me all the time.
- And which one is your favorite tattoo? May be some of them have a special story...
- Well, it's always the latest one. The newest one you have is the most important, because if they are older, you forget about them, you forget the story behind them a little. It's much more interesting having new ones. One of myfavorite tattoo artists is like Dali, he does such things [shows]. As I said I have a ship here. And I asked him: "Can you do something also with sea?" and I have this one. I asked him: "What did you do?", and he answer "It's you!". He was working for three hours, I was not watching what he was doing...
- So it was surprise for you!
- This one of ten favorite tattoos. May be you are wondering what is it? It's from Austrian women's football.
- Football team?
- - This is Jasmin P. Eder. She's playing in the national football team with 16 and in the club with 27. And this is Victoria A. Pinther she's playing in the international team with number 4 and in the club with number 24. And this is Dornbach. It's the district in Vienna where my favorite football club was playing.
- Which football team did you support during the World Cup this year?
- My favorite team is Wiener Sport Club. They were in the Champions League in 1958-1959. But the greatest success was that they have beaten Juventus Turin from Italy. The score was 7:0 and that was the biggest loss for an Italian football team ever in European Championship.
I can tell you a story that I think is very funny it's like Traktor Stalingrad that now called Rotor Wolgograd. And I love these names, you know, I love what we say, I don't mean a bad way, I love these communist football team names: Lokomotive, Traktor, Dinamo. This is really great. If you ask if I have ever seen they playing I say I haven't. But I love Rotor. Nothing's special in Vienna Sport Club but Rotor Wolgograd is very special.
- Because of your work, you know many famous artists. Does it help you in promoting your music?
- No.
- You can collaborate with them...
- I can, but I try to separate my work from other things. I don't want to have a combination of work and the DJ stuff. It would be easier, but for example if you are a famous politician, you have everything like sport, music etc. but if you can make it on your own. If nobody knows. That's success. I don't want to go somewhere and say that, I am a super festival promoter, no. I don't want this.
- You listen to different kinds of music. Does it bring you new ideas? Maybe samples or instruments?
- I started playing music when I was a child. I played flute and all this stuff. And I was in a band before, so this was the most inspiration being a musician. There is no difference. I don't have to listen to somebody to have new ideas, because I already the ideas as well. My whole head is music 24/7. And it can be difficult. When you have a song in your head every day... For example one of the half of year I had Ruby by Kaiser Chiefs every day. When you open your eyes in the morning and it's like "Ruby-ruby-ruby..." and then you try to go to sleep. So I try to hold the music a little bit back, so there is no overflow. That's a problem of everything, if you have this overflow. So I try keep it in mind, not to be overflowed everyday with music. So I try read a book or watch some historical documentaries. It helps to be a little bit away from music.
- So you collaborate with Wildstyle & Tattoo Project. I tried to read about it, but the website was in German, so it was difficult for me to read. As I understand it is a music project.
- No, Wildstyle is the biggest European tattoo convention for the last 20 years. And we had a project in the wildstyle, it was modern primitive DJ set. We played with Helena Virgin fron Croatia, Rob Holliday who played with Marilyn Manson, The Prodigy. It was a triple CD. There was the idea to promote Wildstyle with set to combine the artists you know playing different song but every song has title with Wildstyle. I was a part of this project but the idea was the Wildstyle of the tattoo convention.
- This year the world lost two very good artists. Avici and Dolores from The Cranberries...
- Linkin Park, Jill Janus from Huntress passed away last Thuesday...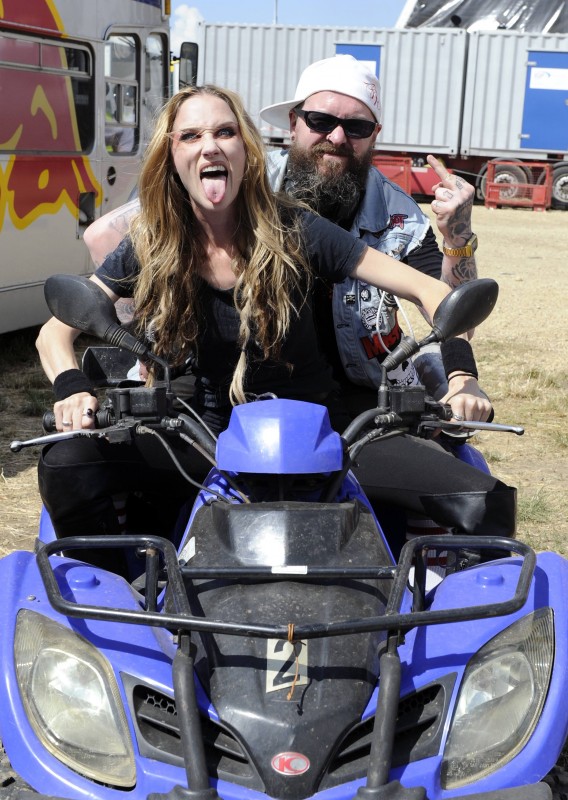 Jill Janus with Rokko Ramirez (Photo by HERBERT P. OCZERET)
----------------
- At this festival we could hear a lot of DJs playing their songs in memory of these people. Do you think it's okay?
- Yes, because all artists live with and in their music and if someone has passed away, you won't forget them. It's like Bach or Mozart, you still listen to this kind of music. One of the most famous Austrian artist Falco - was the first German speaking guy ever who was number 1 in the US charts. with «Rock Me Amadeus» may be you know this song. This is very important to play their songs. Avici was very important for music. And Chester Bennington from Linkin Park too.
- Yeah, there are many bands in Russia that cover Linkin Park in memory of him. And what do you think about Russia?
- I have never been there, but I would to go there, because it's a very interesting country with a very important history since thousands of years. In the city I'm from the Russians came and helped us out from the Second World War. I think all the people there and the history is very important. If there is an opportunity I will definitely go there. I am young enough.
- If you visit Russia, let us know. We will help you and meet you.
- As a child I watched all these military parades. And I am very interested in all this stuff as well in the Russian culture.
- Thank you so much, thank you for the yesterday show, it was amazing.
- Thank you.
-------------------------------
The players from SKN St. Pölten were at FM4 Frequency last year. You can see The Austrian Womens Football Champions on the picture ↓
From left to right upper row:
Ömer Eryilmaz (Goalkeeper Trainer)
Michela Croatto (Defender)
Annabel Schasching (Midfielder)
Gina Babicky (Defender)
Rokko Ramirez
Isabella Kresche (Goalkeeper) injured at that time, that's why crutches
Second row down:
Melissa Abiral (Goalkeeper)
Jasmin Eder (Midfielder) Captain of SKN St. Pölten Women