Dima Bilan presented a new show "planet Bilan" in Saint-Petersburg
Notice
: Undefined index: wrap_width in
/myarea/web/mesmika/public_html/templates/boxed/content/default_item.tpl.php
on line
49
>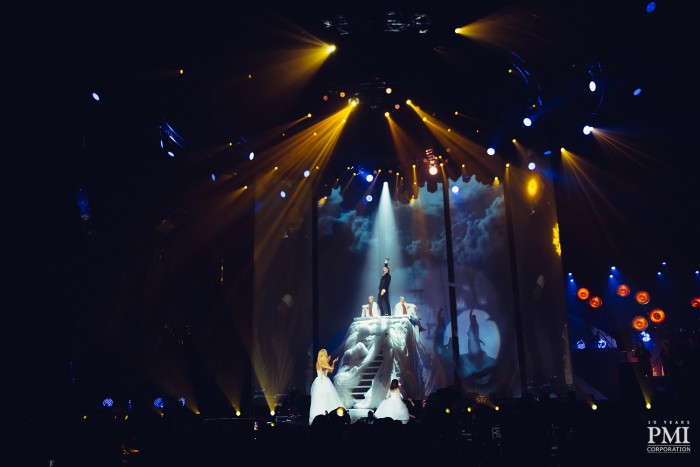 Notice
: Undefined index: wrap_width in
/myarea/web/mesmika/public_html/templates/boxed/content/default_item.tpl.php
on line
49
>
Photo source:
Danil Nikonov
Dima Bilan presented his new show "planet Bilan". It is based on the idea that every person is a planet spinning in a vast universe, in their orbits, with their laws and regulations. To bring the idea to life took several months of hard work and rehearsals, tons of equipment, kilowatts of sound and light, and more than 300 people involved in the preparation.
February 22, in St. Petersburg premiere of the show "planet Bilan". Together with thousands of Ice Palace Dima Bilan went on a musical journey around the planet, re-passing a creative way. The spectators turned a scene, like a spaceship, huge screens, scenery-transformers. The track listing for the concert includes the songs that were milestones on the way not only Dima, but millions of other people. Thousands of voices sang along with the hits "Believe", "Baby", "I Just Love You", "talk to me", "Stop", and many others. Embodied in the life line from the song "Baby" - Dima Bilan, surrounded by hundreds of lights, hovered above the audience, performing his hit. In the center of the room is an additional scene in which Dima flew across the room on a special field. Like a Prince on his small meteorite, he sang the song "Indivisible", and the hall is like the starry sky, flashed lights special bracelets that the audience received at the entrance to the arena. Singer Polina surrounded by well-known bloggers, aerialists, dancers, and angels "Plushenko", stunning set design, musicians and live voice – immersed the audience into the world of Dima Bilan.
The concert was not even disturbed by the trauma of Dima. A few days before the show, the singer broke his leg. "Today we played a terrific concert #Planetarian in #SaintPetersburg! - written by Dima Bilan in his instagram after the concert. But then, what forces he was given - he knows only my favorite team, my family and my team! 18 Feb day I slipped on ice and broke a leg, a double fracture! But I had not canceled and have not rescheduled the show for another date, but decided just to be honest with you and go to the end! Thank you for the strength you gave me today - it was SOMETHING!"
Without a break, without a hitch, despite the fracture, Dima Bilan did a show lasting more than two hours, yet again proving how dear to him all the people who came to the concert.
The organizers of the show were Yana Rudkovskaya and Corporation PMI in partnership with the Star project, GA Production, with the support of an online toy store TOY.RU.
Performances in Moscow and St. Petersburg became the beginning of large-scale tour of Dima Bilan. In March and April 2019 20 cities in Russia and the Baltic countries will see the new show "planet Bilan".