Interview with The Hives at Dobrofest: Russia's been a big white spot on the Hives' map in our Hives map
Notice
: Undefined index: wrap_width in
/myarea/web/mesmika/public_html/templates/boxed/content/default_item.tpl.php
on line
49
>
Notice
: Undefined index: wrap_width in
/myarea/web/mesmika/public_html/templates/boxed/content/default_item.tpl.php
on line
49
>
Photo source:
Maria Dikova // MESMIKA
Each year Dobrofest shows to its dobropeople new music discoveries. In 2018 dobropeople met The Hives is a Swedish rock band. Mesmika spoke with Howlin' Pelle Almqvist (vocal) and Nicholaus Arson (guitarist and back vocalist) before their gig at Dobrofest.
Is it your first time in Russia?
Pelle and Nicholaus: Yes.
What are your impressions?
Nicholaus : So hot!
Pelle Warm! And it was really fun to see the countryside As we grow there and it's fun to see that it looks a lot like Sweden. The nature looks a lot like Sweden. But the houses are different.
And how did you receive the invitation to Dobrofest? And how did you accept it?
Pelle : We've been asked to come to Russia before, but it never worked out. We've always had concerts somewhere else. And this time we didn't so we worked out with the rest of our schedule, so we said 'yes' and we were excited to go to Russia for the first time.
Your last album Lex Hives was released in 2012. And in the interview of 2016 you said you stopped and didn't get along with the creative staff. Did something change?
Pelle : It's easier to get along now, I think, a little bit maybe. What do you think?
Nicholaus : "Yeah". We released our record in 2012 and then we toured the record for at least three years I think. And then some other fun stuff showed up, like we toured with AC/DC in Australia and we did good shows. And then we started making a record we had hard time getting along what type of record is done. And it takes a while, I guess it takes time to get along it seems. But it's gone better.
You released a song for a horror movie.
Pelle : Yep.
Do you have any offers or plans of making more songs for such kinds of movies?
Pelle : We had our offers to do special stuff, but that stuff was a bit special because the author of that movie comes from our home town.
Nicholaus : The movie is set in something that is very similar to our home town so I think it's sort of about where we come from. Therefore we... Benny Andersson from ABBA asked us to do it, and we said "OK, Benny". So it was a one off but maybe we'll do more, we'll see.
Pelle : Yeah, we don't know. For the most part we are having enough, you know, it's enough of a job to making a new record and later other shows we are doing like going here and there, everywhere.
What do your black and white suits mean?
Pelle They mean that we are the Hives, I mean it never feels like we could play a show if we don't put on black and white clothes. It would very wrong if they are purple or yellow or blue jeans, the regular clothes. It would feel weird to play dressed up as normal people.
Nicholaus : When we started, the bands showed up, whenever we did small punk shows as well we always thought it was cool when bands showed up and they looked like gangs, so we started dressing up like you know and then we've done it ever since. It feels right.
Are you friends in your real life? Or you just meet each other for preparations for your shows?
Pelle : We don't live in the same city anymore. But we do...
Nicholaus We probably used to hang out way more in the past. I meat we get along just fine, we meet as friends, so we have some meets as friends as well, but I think we used to have hang out more as friends before, when we lived in the same city and then nowadays we spend some for the past what? For the past 28 years we've spent so much time together that whenever we don't have to spend time together we try and socialize with other people. We avoid each other (laughs).
Pelle : We hang out so much with each other that we're kind of letting our other friends down. So in order to keep other friends we chat because we have no other time to chat with our friends.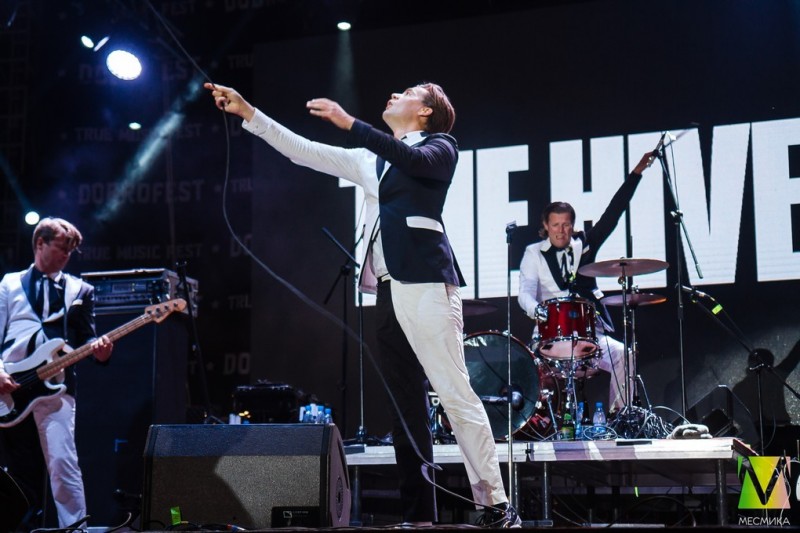 Do you feel any difference between Russian and European open air?
Pelle : So far we don't know. We haven't played the show yet.
Ok. And what about the atmosphere?
Pelle : This looks about the same. I mean it's an air strip and there's other bands playing. It's a field and there are a lot of people and there's a fence across the stage. It's just the same.
Nicholaus : You know for the most part a rock and roll show is a very universal thing and it's the same whateveer you go. It's the same for us whether we go to China, Chile, Russia, Sweden, the majority is the same. Peru, Finland, Norway yeah. It's just people going (makes a sound) and we play.
So did you prepare any special for the Russian audience or it is going to be your ordinary show?
Pelle : Well I mean I'll try to speak some Russian. I won't do that in anywhere else.
How about right now?
Pelle : I'll do it on stage, cause I'm not comfortable speaking if you can answer me. And if I'm on stage I have a microphone and they don't. So if I do wrong it doesn't matter.
Nicholaus : And it's really supposed to be the other way around. It's supposed to be Russia getting prepared for the Hives.
Pelle : Yeah, what did you do as Russia to prepare for the Hives?
Nicholaus : It's a surprise. No ruining it (laughing)
And some words and wishes for your Russian fans.
Pelle : Oh just grab on to the railing and hang on tight. You gonna love it. The ride of your life you know. And we are really excited to be here. It's going to be so fun playing to new people and in such a big part of the world. Russia's been a big white spot on the Hives' map in our Hives sort of war room or whatever like places we've been to. So it's the big globe of the world we can put a needle in and say we've been. But I guess in order to do it properly we'll have to come back and hopefully we can.
Thank you very much!
See photos of The Hives at Dobofest here.