Interview with Amorphis: Ask any Finnish band - going to Wacken is their dream
Notice
: Undefined index: wrap_width in
/myarea/web/mesmika/public_html/templates/boxed/content/default_item.tpl.php
on line
49
>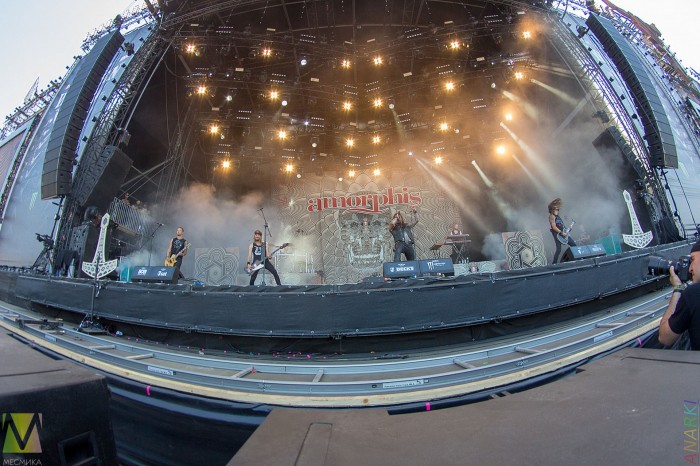 Notice
: Undefined index: wrap_width in
/myarea/web/mesmika/public_html/templates/boxed/content/default_item.tpl.php
on line
49
>
Photo source:
Alexander Egorov // MESIKA
The group Amorphis - a welcome guest at many metal festivals. On the Wacken Open Air festival we talked a little bit with the band before their show about the album Queens of Time, collaboration with Anneke van Giesbergen and that means Wacken for these harsh Finnish guys.
- Your new album "Queens of Time" sounds quite progressive, but 100% in your style. You specifically wanted to get that sound?
- Well, you know, when we record our album, we want 100% sound like Amorphis. But sometimes it puts us, as this time. But despite this, I think? In this album we are at 120% they sound like us. But of course, we always try to add something new, to search for those our chords, but different.
You agree that "Daughter of Hate" is the whole slice of your creativity – from the heavy guitars and the signature vocals to the melody and the saxophone? There are actually tracks that you set for yourself in your work?
- I think we have many such as "the Daughter of Hate", no? And the new album "The Bee" just one of those that you have in mind, all of these recognizable elements. But "Daughter of Hate" of course is good. Yes, and "Message of Amber" seems quite typical for us.
- How did you porabotali with Anneke van Giesbergen? "Among the Stars" downright pretty.
- In General, we met Anneke back in the 90's, when played together in some festivals, so we are familiar for a long time. A couple of years ago we played a show in Helsinki, where they invited some of their musician friends. And then Anneke was among them. So about that time we began to discuss joint work on the songs on the new album. So a big thanks to Anneke for the work done, it was very cool.
As the return of Olli influenced the group and recording a new album?
- Olli – cool guy. Nicolas left the band, we were looking for a new person, but in reality was only thinking about getting back Olli. He played with us at some festivals, and we constantly spoke on the subject, to return to the group. It took some time, to tell the truth, but now he is with us. And it's great.
- After the release of "Queens of Time" what are your goals?
- Big tour to support it of course. But in addition to what we do now, I don't know what other purpose can be put. We're just really happy doing what we're doing. But there's still the anniversaries of certain events and albums are coming, so don't know. Have any thoughts on this, but while we're doing this tour, to think about something else.
- What is Wacken?
- I think the first time we played there already in ' 97, if memory serves me correctly. But at the time it was definitely a much smaller festival, so that Wacken has grown great over the years. Ask any Finnish band to go to Wacken their dream. Type "Once we get to Wacken". So it's not just a festival, but a real landmark for many.
And a few words for Russian fans.
We're going to see you in March, will be a big tour from Vladivostok to Moscow. We really want to go back and to see you all again and most importantly to hear. And that it was "horosho"!
Photos from the performance at Wacken on the link.