Christian rock on the Moscow stage: P. O. D. performed in GlavClub Green Concert
Notice
: Undefined index: wrap_width in
/myarea/web/mesmika/public_html/templates/boxed/content/default_item.tpl.php
on line
49
>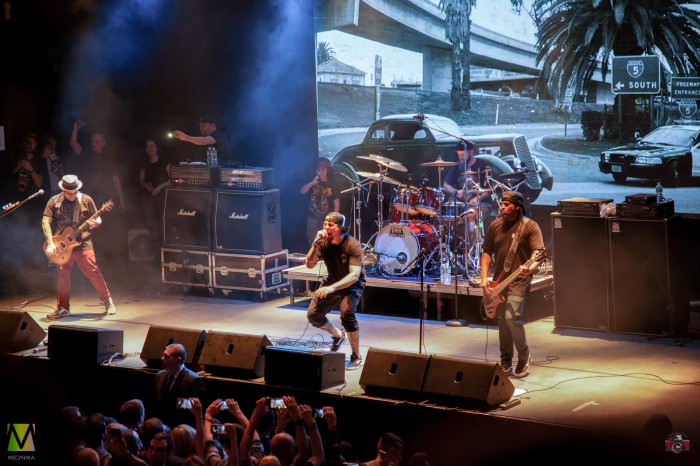 Notice
: Undefined index: wrap_width in
/myarea/web/mesmika/public_html/templates/boxed/content/default_item.tpl.php
on line
49
>
Photo source:
Tanya Ash// MESIKA
20 March in the capital GlavClub made hot Californians P. O. D. Guys came to Moscow after only 9 months after their last visit to Russia, this time with a tour in support of their 10th Studio album "Circles". The day before they visited the St. Petersburg Kosmonavt, but now get to Golden.
Opening for the Americans was the Moscow group "TiMonkeys". The guys played a small set of actively trying to warm up the audience to the exit star colleagues. It is worth noting that hall was filled GlavClub still far from complete: many apparently decided to go straight to the top performances P. O. D. maybe this stems from the fact that the concert took place in the middle of the week.
Monkeys coped with its task, and by the time they played the final song, the crowd are already well worked. Those who the speech of the Muscovites was not enough, is 6 April to drop into the bar of "Success" where the guys are going to present his long-awaited solo album.
P. O. D a little late in setting out on the scene, Sonny and his comrades went to the fans for a half-hour later than promised. And immediately BUM – rushed! It is the song "Boom" the Americans opened the concert in white stone. In the middle of the song Sonny got off the stage, climbed the fence photopit (top looked like he's standing on the shoulders of the fans) and finished the song from there.
Then P. O. D played "Rock the Party", then "Panic Attack". It is worth saying that the Americans have combined in his speech, as songs from the new album (11 tracks present on "Circles", the guys played 7) and the fan-favorite hits (mostly tracks from the very successful (and probably most beloved by fans) album the band "Satelite").
The song "Southtown" Sonny helped sing fan. The guy did not shade, cool sang and then rocked the crowd starting chanting "Pee-Oh-Dee, pee-Oh-Dee". It was very cool.
Unfortunately, the tour couldn't go drummer Noah Bernardo (according to him, he has to "deal with things"), but a substitute for it johnny Beats just gelled. And in one of his songs he even helped to knock son Paul Sandoval justice.
Hall came off the best, all jumped like crazy. Circle-pit in the center of the room circled almost every song. Each chorus was picked up by hundreds of voices, helping Sonny. "YouthoftheNation" and "Alive" so it was turned into a kind of fan-made karaoke. In General, the concert was just amazing energy. Sonny just handsome, jumped up on stage as well as when he was fifteen years younger. It was the time of MTV, radio Ultra, the second Matrix, and "SleepingAwake". Years passed and the kids sausages as before. Respect!
Setlist:
1.Boom
2.Rock the Party
3. Panic Attack
4. Will You
5. Rockin' with the Best
6. Soundboy Killa
7. Always Southern California
8. Circles
9. Sattelite
10. Southtown
11. On the Radio
12. Youth of the Nation
13. Without Jah, Nothin
14. Alive
15. Listening for the Silence
Author: Sasha Hair