Oomph! held their rituals in the Barcelona club Razzmatazz
Notice
: Undefined index: wrap_width in
/myarea/web/mesmika/public_html/templates/boxed/content/default_item.tpl.php
on line
49
>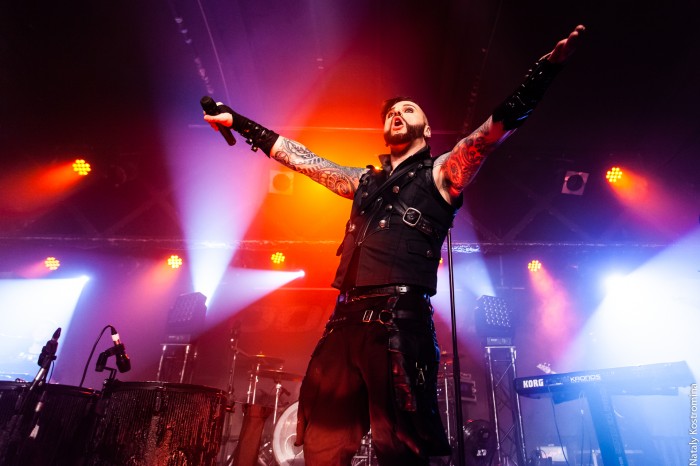 Notice
: Undefined index: wrap_width in
/myarea/web/mesmika/public_html/templates/boxed/content/default_item.tpl.php
on line
49
>
Photo source:
Natalia Kostromina // MESIKA
March 23, 2019 in Barcelona at club Razzmatazz concert of the German rock band Oomph! in the framework of the European tour. The band performed one of the most famous clubs in the city with the presentation of the new album "Ritual". Hall for the gig was small, designed for about 500 people. Due to such occupancy was dominated by a cosy atmosphere. In the hall was a bar, a place for selling clothing with symbols of the band and a large dance floor. The bar sold a local beer brand Estrella is about 220R 360r for 0.3 and 0.5. Among the merch was allocated a huge amount of t-shirts and sold posters, hoodies, posters and even underwear with the logo of the group!
By the beginning of the concert, lined the entrance of the club. Among fans of the band were dominated by young men aged 30-35 years, as well as interesting kind of girl. However, it should be noted that due to the fact that the concert hall was not designed for a large number of people in the concert were more like meeting with friends than a concert for a serious group. The concert began with a performance of the Spanish group MindDriller, which is a metal band, serving since 2011. The boys impressed the audience with his interesting appearance and not less interesting songs, which were presented as separate productions.
Within an hour the dance floor was filled with new faces and to start Oomph! the hall was almost full and was ready to welcome their favorite band. His performance group started with an instrumental composition. The first came on the scene and Robert flux Andreas Crap, waving to the crowd hands up, behind him appeared on the stage Dero GOI, which fans met with thunderous screams and applause under the beat of unheard music. After that, the band started to play the song TRRR-FCKN-HTLR, from the new album Ritual, which was accompanied by an active circulation Dero on the stage, which encouraged fans to be more active. The fans remained active and sang along with their favorite band.
During the concert Dero sang 22 songs, among which the most famous Labyrinth, GottIstEinPopstar, AllesAusLiebe, AugenAuf. From the new album was done Tausend Mann Und Ein Befehl, Kein Liebeslied, Im Namen des Vaters. After the execution of the last song, the hall erupted with loud applause and cheers.
In autumn the band returned to Russia with the presentation of the new album "Ritual".
The author of the article Denmark Hirova
See the photo album at the link