Eskimo Callboy again in Saint-Petersburg - Club Zal may 26 2019
Notice
: Undefined index: wrap_width in
/myarea/web/mesmika/public_html/templates/boxed/content/default_item.tpl.php
on line
49
>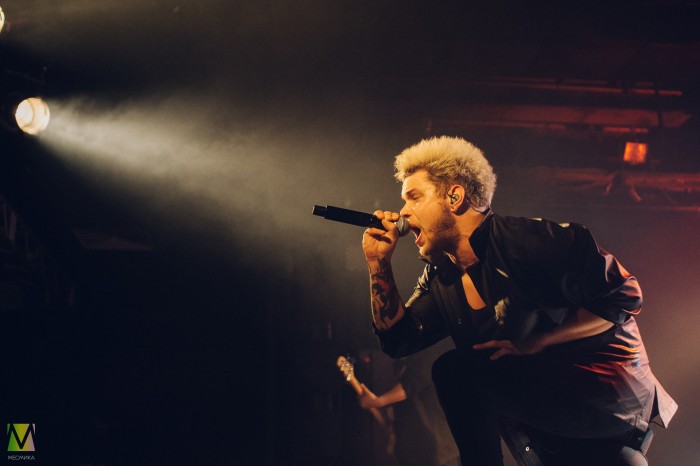 Notice
: Undefined index: wrap_width in
/myarea/web/mesmika/public_html/templates/boxed/content/default_item.tpl.php
on line
49
>
Photo source:
Eugene Bilalov // MESMIKA
Hey, did someone order a hot German boys?
Good news for all fans of rock music! In Russia back killer German rockers Eskimo Callboy.
Get acquainted closer with the history of the group. German electronicor-the band was formed in 2010 in Castrop-Rauxel. Currently the band members are Sebastian "Sushi", Bixler (vocals), Kevin Ratajczak (vocals, programming, keyboards), Daniel "Danskimo" Hanics (lead guitar), Pascal Silla (rhythm guitar, backing vocals), Daniel Klossek (bass guitar, backing vocals) David Friedrich (drums). The musicians themselves call their style "porn electro metal". Eskimo Callboy songs will please not only the riders who love powerful bass, but also an avid electronics.
The Eskimo Callboy concert in St. Petersburg took place on may 26 at the club "club Zal". "Club Zal" is one of the venues that takes in the walls of the famous foreign and domestic groups (Red, Crossfaith, Our Last Night).
The club doors opened to fans at 19:00, the concert began at 19:30 with a warm-up. The Eskimos have decided to please fans of his work opening act for two musical groups: Sasha Gray and SHREZZERS. These young Patriotic group were met by a hall with a Bang, the fans were very pleased.
At 21:00 on stage were the headliners of the evening the track "The Scene" ("The Scene", 2017). Excited fans met a group of enthusiastic shouts. The crowd literally became filled with madness, the audience burst into applause. Once again Eskimo Callboy proved that their music is able to wind up with sex trafficking! Crazy antics on stage, no hesitation, strong drinks, live chat with fans – all this gives a certain "charm" to the group. Being at the epicenter of all that is happening, completely forgetting that you can't breathe, and all around you presses the crowd, and you can barely move, you're just enjoying this madness.
Eskimo boys call hall pleased not only the familiar songs, but also brought something new, namely the recently released track "Supernova" (2019). EskimoCallboyисполнили his famous songs: from the album "The Scene" (2017): "The Devil Within", "Banshee", "VIP", but also the musicians did not forget about their past albums, the composition of which has long been familiar to fans of "Pitch Blease", "My Own Summer" ("Crystals", 2015), "Party at the Horror House" ("We Are The Mess", 2014). The band performed 17 songs, and the audience were all eager to continue. The group has concluded his speech with the song "MC Thunder" ("The Scene", 2017). The concert came to an end, making a group photo with the fans, the band left. The buzz... Or not to describe what happened on may 26 at the "ClubZal". Come back soon, Eskimo boys on a call!
Setlist:
1.The Scene
2.My Own Summer
3.We Are The Mess
4.The Shallows
5.Back In The Bizz
6.Party At The Horror House
7.The Devil Within
8..
9.Muffin Purper-Gurk
10.Supernova
11.Pitch Blease
12.VIP
13.New Age
14.Is Anyone Up
15.Crystals
16.Best Day
17.MC Thunder
Notice: Undefined index: wrap_width in /myarea/web/mesmika/public_html/templates/boxed/content/default_item.tpl.php on line 49
>
Notice: Undefined index: label_in_item in /myarea/web/mesmika/public_html/templates/boxed/content/default_item.tpl.php on line 50


Artist: