How was the big open-air music of the Urals
Notice
: Undefined index: wrap_width in
/myarea/web/mesmika/public_html/templates/boxed/content/default_item.tpl.php
on line
49
>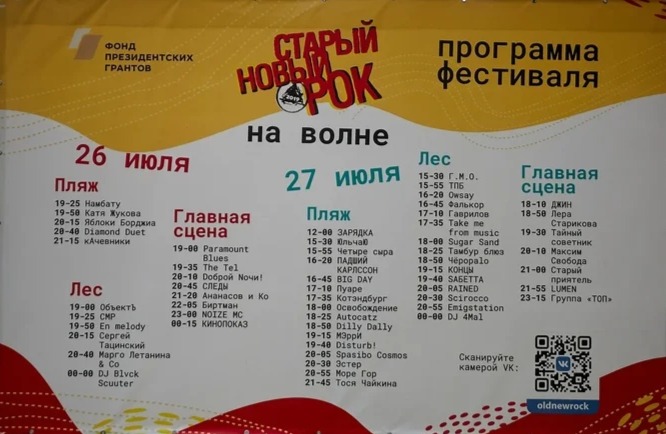 Notice
: Undefined index: wrap_width in
/myarea/web/mesmika/public_html/templates/boxed/content/default_item.tpl.php
on line
49
>
Photo source:
Press service
On 26 and 27 July at the "Wave" after a five year hiatus has passed the seventh year "Old New Rock".
Two days, 8 headliners, 56 young bands, three stages, 18 hours of music – year-old "Old New Rock" has gathered 5000 people on the "Wave" and more than a million viewers of the online broadcast.
The first day on the main stage headliners made of BIRDMAN and Noize MC.Noize MC in the middle of his speech together with "kachevniki", Trichromacy and Naum Blik made a real freestyle: the group would improvise for 11 minutes, swinging a few thousand spectators.
The second day on the Main stage were performances of Maxim Liberty, "an Old friend",Lumenи group "TOP". Guests are not scared of heavy rain: the glade in front of the stage was filled with hundreds of people in colourful raincoats, singing favorite songs together with the musicians, danced and had fun until late at night.
The scene "Forest" true. music "heavier". It was made by a band playing heavy rock and punk. Scene "Beach" – more light, sun, beach music. On the first day, in addition to young musicians, it was the group "kachevniki", which arrived in Yekaterinburg for the first time. The second denistone Tosi chaykinoy became the lyrical conclusion of the festival on the Beach. Along with headlining the festival on all three scenes were 56 young bands from 40 cities of Russia.
Besides concerts, the musicians, the guests enjoyed the art space of the festival. Contemporary artists – participants of the creative cluster SNR – painted vacant houses "Wave" and created a few art objects. On the first day the Main stage was closed by kinopokaz five short films from participants in the direction of "Cinema". Predstavlyaetsya mystery theater performance "the Shade or 100 aspects of the moon" on the last day of the work of the creative cluster. Parties directions photo two of the day creating a photo-story CHP. Young journalists – Krasnopartizanskiy materials about the festival. The work of these two directions will be posted in the group of the festival. Joined the creative cluster a common theme – music. Test creative cluster was to "Wave" from 22 to 25 July.