Basil Urievsky
Image: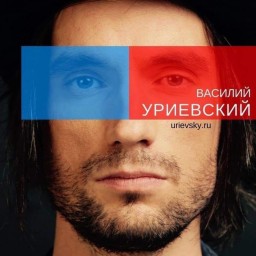 Vasily V. Urievsky
Born on 11 November 1983 in Saratov. He graduated from secondary school № 63 with artistic-aesthetic bias in the Leninsky district. In 2005 he graduated from the theatre faculty of Saratov state Conservatory named after L. V. Sobinov. Worked for five years in the Saratov puppet theatre "Teremok" as an actor-puppeteer.
Was engaged in pantomime and worked in music and theatre projects, including: "Institute of Good Mood" and Comic jazz BABEL. An active concert activity leads since 2011. He performs solo, in Duo with multi-instrumentalist Michael by Them, or in a group, "Gardina": Basil Urievsky (vocals, guitar, kazoo), Michael Curtain (guitar, piano, accordion, vocals), Oleg Timashov (bass guitar, vocals),Arseny Nekrasov (drums). In the autumn of 2013 Basil provides support to start-up producer of Zemfira, Mumiy Troll and the Brothers Grimm. February 1, 2014, concert Director Basil Uritskogo becomes Rustem Nuriyev, former Director of group "Umaturman".
In April 2014 in the Studio "Monolith" was released the first full-length album, Basil Uritskogo "Thousand-You Thousand", consisting of 11 songs. In addition to the limited edition CD album is available on many online music sites (iTunes, Google Play, Yandex.Music, etc.). Five songs from the album filmed videos. In April 2016, Basil Urievsky presented its first musical solo performance "My life in art".
At this point you need to recognize BASIL URITSKOGO ready, multi-format artist working at a different audience, with programs:
1. Performances in clubs and on large stages in electrical sounding with the band "Gardina".
2. Performances in the theatre and concert halls, with musical solo performance "My life in art".
3. Acoustic performances for the chamber music audience the guitar with the program "18+".
4. Filming in movies and TV series.
5. Conduct on TV and other private and public events.
Concerts