The ensemble "SYABRY"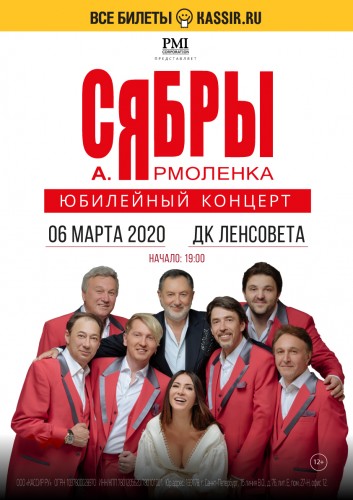 Corporation PMI is
The ensemble "SYABRY"
Anniversary concert
March 6, 2020
"DK Lensoveta"
The legendary ensemble "Syabry" more than four decades of happy listeners with their creativity, combining tradition and modernity. The art of the ensemble, thanks to the performance skills and vocal talent of all artists, made him popularly known and loved. And the songs – "Ales", "chain tattoo", "Pechki-Lavochki", "the spring", the "bench," "quiet, You, birch," "to walk so to Walk!", ""Belovezhskaya Pushcha", "Belorussiya", "Belarusian Polka" and many others – have become popular.
Despite its age, the ensemble is in his Prime, record new albums, constantly presented meaningful songs at once be taken as constant fans and find new listeners. "We, the living, trying to perceive the subtle vibrations of the musical organism is therefore forced to follow the trends, - said the founder and invariable art Director of the band Anatoly Yarmolenko. - However sincere and reverent attitude to what we do, there has been no change. "Friends" as was out of the situation and remain to this day. Prefer to sing about something lyrical, so personal, close to all of us, about the wonderful people, nature, the land where he was born and grew up, places where constantly pulling".
March 6 on the stage "DK Lensoveta" the present song festival – jubilee concert of the ensemble "Syabry".