19th annual international festival of fantasy, cinema and science StarKON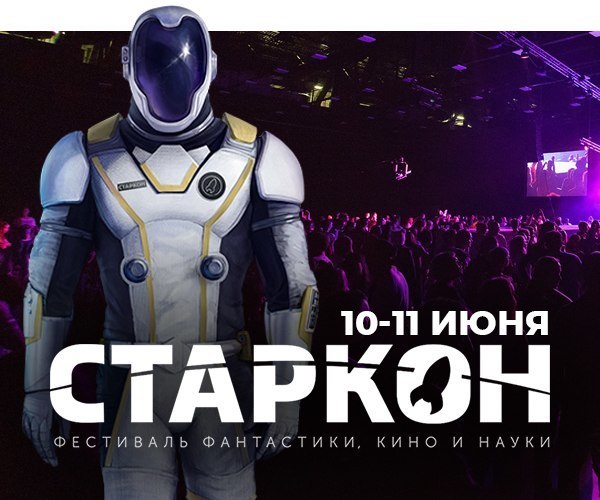 The timing of the festival:
10-11 June 2018
The venue of the festival:
Saint Petersburg, Peterburgskoye highway, 64к1 Expoforum
A visa is required:
for citizens of Russia is required
StarKON is completely dedicated to contemporary popular culture, including elements such as comics, cinema, TV series, literature, animation, video games, and popular science, space exploration, robotics, art and much more.
Features:
Over 30 fantastic scenery from movies, TV series and video games
More than 30 well-known scientists, writers, artists and popular bloggers
More than 1,300 of the best cosplayers of the country in images of your favorite heroes
20.000 m2 of interactivity and entertainment
And more than 30 booths, decorations with photozone, quests, comfortable lecture halls and heroes favorite TV shows, movies, books and video games. In addition, at the stands of the festival Starcon will be a great quest with great prizes.
Exhibition of advanced technologies, scientific exhibits and space technology, famous scientists, real astronauts and more than 40 popular scientific reports about space exploration, robotics, astronomy, Cybernetics, and more, in the lectures of the conference "Parsec".
StarKON will gather more than 1,500 cosplayers in copyright suits from all over Russia and abroad. On the main stage is traditionally held the prestigious competition where the strongest cosplayers will compete for prizes and the title of the best.
In the play area will feature new items from the best independent developers of video games, modern VR peripherals, master classes on developing your own game, and will also be various e-sports tournaments.
StarKON will gather the best artists from across the country. As part of the Art zone will be held intensives in drawing and creating comics from the known multipliers, the member and game designers, as well as presentations of new products from the best publishers of comics in Russia.
In the framework of the cinema festival holds screenings of the highest grossing and most popular films 2017/2018, there will be presentations of the upcoming anticipated movies with exclusive resources and materials.
Over 35 comic shops, merchandise, collectible figurines, amazing author clothing accessories, and various collectible items.
The website of the festival: http://starcon.pro/
News
No news to display