Lay's® football will awaken emotions in Nizhny Novgorod on 16 and 17 June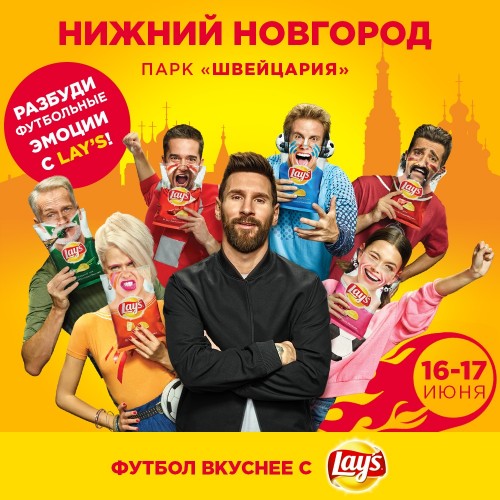 The timing of the festival:
16-17 June 2018
The venue of the festival:
Nizhny Novgorod, the Park "Switzerland"
A visa is required:
Russia (for Russian citizens is not required)
Lay's® has launched a large-scale campaign dedicated to one of the most exciting sports — football. The brand has decided to awaken real football emotions throughout Russia and has launched a road show around the country. This summer is a great interactive van will travel four cities. The first stop is Nizhny Novgorod, where on 16 and 17 June there will be a Grand event dedicated to football and sports activities, visit which be free.
Only two days in the Park "Switzerland" will turn into a training camp for those who want to become world-class football fan. From 11 to 21 hours the hotel offers a variety of interactive zones in which they will be able pump your football emotions and get unforgettable impressions. The loudest chants, jumps on Rodeo ball, a football shooting and "human foosball" in which participants are recorded on the game rods – only to cope with these tasks, it is possible to access chips-the championship, where you can feel yourself inside the gaming machine.
After completing each zone, participants can collect stickers and exchange them for gifts from the brand: sunglasses, hand fan and soft cushions for picnic.
Spectacular part of the festival will be master-classes and show-teams of freestylers that will help guests to learn soccer tricks and to awaken your emotions to the maximum. In addition, all Park visitors will be able to take striking photos in special photozone, relax in the lounge area or to take part in the mass games.
After Nizhniy Novgorod the van Lay's® will continue their journey and will make stops in Samara, Saint-Petersburg and Moscow
News
No news to display