In St. Petersburg held the first festival of the Acoustics of Happiness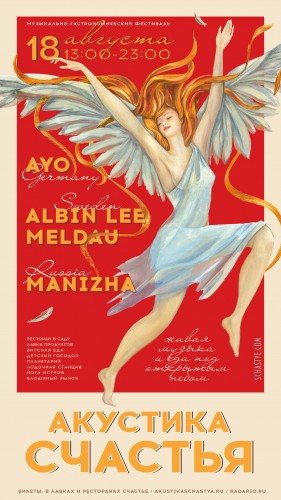 The timing of the festival:
18 Aug 2018
The venue of the festival:
Saint Petersburg, the Yusupov garden
A visa is required:
For citizens of Russia is required
In the Yusupov garden for the first time will be a musical and gastronomic festival "Acoustics of Happiness." The event program includes: performances Manizha, AYO and Lee Albin Meldau, delicious food, pop-up restaurant, flea market, yoga practice, a real planetarium, and more.
18 August on the territory of Yusupov garden will host music and gastronomy festival the Acoustics of Happiness. On the festival stage will perform cosmopolitan-melodic AYO, vrubivka himself in new York and Paris, a bright and favorite MANIZHA, who won the audience with original music videos in Instagram, and for the first time in Russia, the Swedish Grammy award LEE ALBIN MELDAU.
Great attention is paid to the gastronomic component of the event. In addition to the food court with street food from natural products in the garden just one day appear cozy pop-up restaurant with big tables where you can enjoy dishes from the chef of the restaurant "Happiness" Dmitry Reshetnikov.
Also at the festival will be erected the dome is unique for St. Petersburg mobile planetarium. Here, in the intervals between food and music will take an amazing journey to the stars and discover the history of space exploration.
In addition, guests can visit the station of healthy nutrition and practical yoga classes by Urban Yoga, flea market, shops of natural products. Young festival visitors will not remain on the side – for them to be built children's Playground with play area, educational activities, where you can have fun under professional supervision.
Of "Happiness" for several years, holds acoustic night in his Moscow locations "Happiness on the roof", and this year, in honor of his decades of organizing large music and gastronomy festival in Saint-Petersburg.
Music and gastronomy festival the Acoustics of Happiness.
18 Aug (13.00-23.00), Yusupov garden
Tickets: akustikaschastya.ru
Children under 12 years accompanied by an adult admission is free.
News
No news to display