The Holy land Wacken Open Air again opens its doors!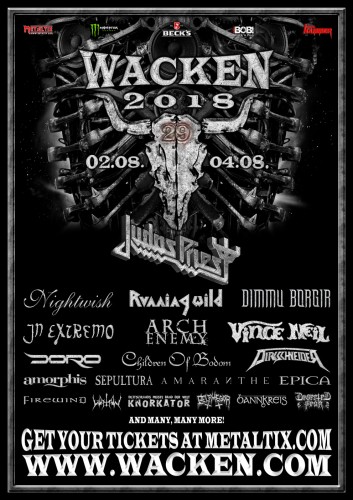 The timing of the festival:
2 to 4 August 2018
The venue of the festival:
GERMANY, on the outskirts of the town of Wacken in Northern Germany
A visa is required:
Schengen (Germany)
Wacken Open Air– the Holy land for metalheads of the world. This year is a blessed metal place will delight us with the following performers: Judas Priest, Nightwish, In Flames, Ghost, Helloween - United Pumpkins, Danzig, Running Wild, Behemoth, Dimmu Borgir, Arch Enemy, Children Of Bodom, In Extremo, Hatebreed, Gojira, Steel Panther, Doro, Alestorm, Dirkschneider, Samael, Cannibal Corpse, Ensiferum, Schandmaul, Destruction, Clawfinger, Korpiklaani, Eskimo Callboy, Die Apokalyptischen Reiter, Converge, Riot V, Epica, Tremonti, Wintersun, Oomph!, Amorphis, Vince Neil and many others! Full line-up you can look at this page official website.
Scene
6 open-air scenes and 3 tilts. Two main stage Black Stage and True Metal stage are connected in one, separated by a flaming bull skull, they work in turns. Party Stage located to the right of the main scenes. Beer Garden Stage is located on-site Beer Garden; Headbangers stage and W:E:T stage is located in the structure called the Circus in Waken Plaza. Wackinger Stage is in the area Wackinger Village,the Scene of the Wasteland stage at the Wackinger Village area not quite a scene on her site, you can relax in the company of harsh characters. The ninth scene is a Movie Field, near the Wasteland stage.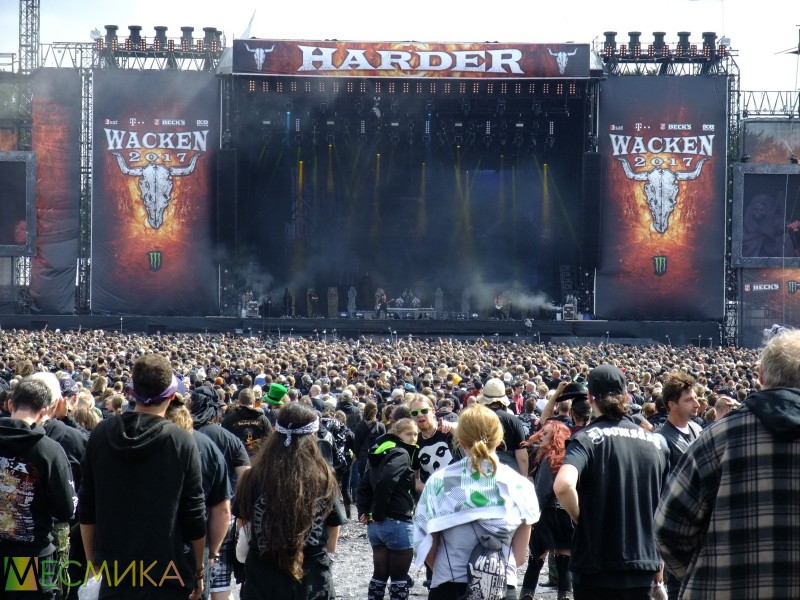 Lockers
Now you can rent a locker for WackenOpenAir! Team BigBoxBerlin will again be in the same place with comfortable containers SafeBOXна Wacken 2018.
SafeBOX is like lockers and charging station!
In the updated container cabinets are offered in two sizes. You can find them in the Center of the entrance to Wacken / PartyStage and at the entrance to the Plaza / BullheadCity.
In each container there are several lockers with ample space for your valuable items, jackets, backpacks, or electronic devices (up to 15 watts). And you can also charge their devices at each locker, you only need the charging cable!
New are high voltage cabinets that allow you to charge energy-intensive electronic devices, such as laptops size up to 11 inches or sandboxy (max 90 watt).
The command BOX is open for guests 24/7 and you can constantly use the lockers, continuously charge their devices, and the team is always ready to help! In addition, the contents of each locker is insured for up to 500 €.
The service is open Wednesday, August 1, 10 am to Sunday, August 5, 12 noon.
NEW: cabinets are already open on Monday, July 30, 10:00 at the Wacken Plaza / BullheadCity. The first 100 reservation locker from Monday to Sunday at Wacken Plaza, will receive a W: O: A MagicTowel as a gift.
You can book a locker directly now! Just follow this link.
Safety information
Main
Call 112
Festival venue - not a place without laws. The festival was conceived in cooperation with relevant organizations, and monitored round the clock police, fire and medics. In addition, we have hundreds (metal)guards, and volunteers on duty to ensure the safety of the festival and ensure that everyone got their portion of fun!
Emergencies can happen at any time, and you can call the global emergency number 112, or to access any of the guards. You can find them at the entrances to the campsite and at the festival. Please do not hesitate to inform the authorities that the territory is involved in something suspicious.
Please keep an eye out for each other, and help each other if necessary. Our security, medical personnel, firefighters and police will help you. Feel free to talk with them.
The festival area is 240 hectares, so it is impossible to make every meter is completely safe. If you find space on the festival grounds, creating health risks (for example, where you can stumble or hurt yourself), please notify the organizers and they will try to eliminate these shortcomings.
Weather
Sunny:
Many people forget about the need to drink sufficient amount of water in the heat, preferring to make do with a beer to quench your thirst. However, the consumption of beer leads to dehydration. And the lack of water, in turn, leads to headaches, fatigue and can also lead to loss of consciousness. However, you can prevent this very simple way - just by drinking enough water. You can find drinking water at water stations located on the festival field, as well as showers. Also, don't forget to use lotion to protect the skin, hats and light clothing to protect skin from the damaging effects of sunlight. Tip: if you share a lotion, make new friends...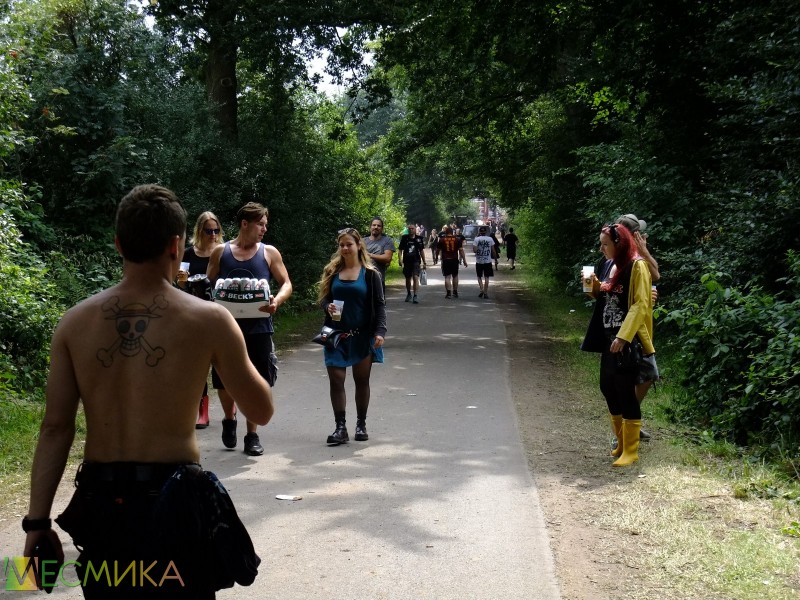 Rainy:
Rubber boots are a practical thing for the field, and the raincoats can be found in every Full Metal Bag. Don't forget that electricity and water are not the most compatible of the phenomenon. So, do not forget about safety precautions when handling electrical stuff on the festival grounds.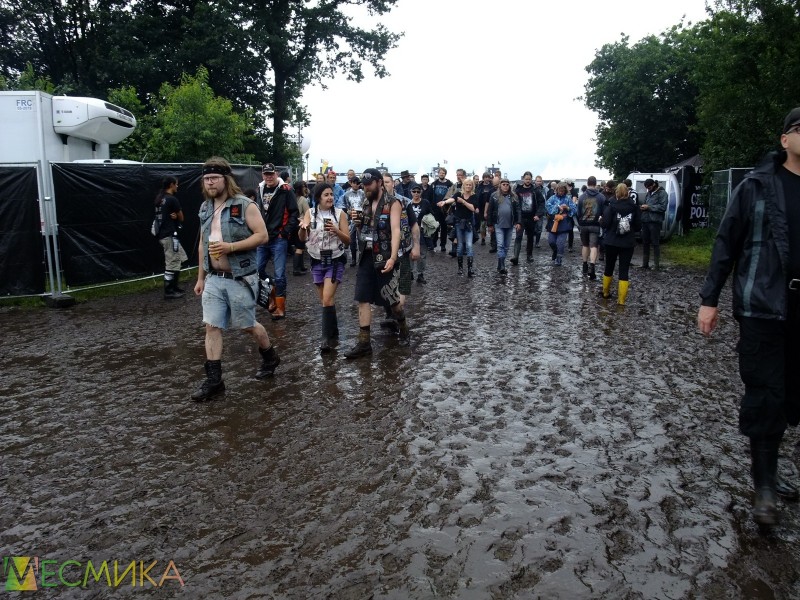 Storm:
The safest place out of the festival car. Tents are not safe to stay in them during storms. Therefore, immediately go to seek a safe place. A simple calculation shows that the number of vehicles of the guests of the festival and number of visitors are correlated in such a way that every visitor can find a free place. If you have arrived to the festival by car, offer other guests a refuge in times of bad weather and will find new friends!
Please avoid wooded areas and single trees during a storm - tree trunks can break and cause you injury if it is dropped. Also, are away from vertically standing structures (light poles, construction of the stage...). None of them can be 100% windproof.
Do not forget to close the tent before going into the festival site - so you don't lose a lot of things when a sudden raging storm. And please, it is better to be in the car, rather does nowhere to hide.
To calculate the distance, which is the center of a thunderstorm, count the time between flash of lightning and thunder. If you divide the number of seconds by 3, you get the distance from the center of the storm in kilometers. If the distance is less than 1 kilometre, then you are in danger!
Remember:
Avoid contact with electrical conductors and structures composed of them.
Go to your car immediately.
If you are in the field and can't find shelter:
Do not occupy the highest point in the field - the lightning often hitting it there.
Look for the understatement, and sit down with closed legs.
Are away from trees lightning often hit it into a tree because they occupy the highest point in the field. The basic rule - are at least 10 metres away from trees during a thunderstorm.
Do not approach other people, and keep a minimum distance of 3 meters. Don't hold hands, or walk barefoot.
The wind and the big tent:
Our tents, where we serve our guests, will be closed at a certain wind strength. And they will remain closed until the wind dies down, for your own safety.
Medical care
Call 112, even if you didn't bring your cell phone, contact a nearby security guard. In the case that health services will need to be provided immediately, you will explain what to do. Be prepared to answer the questions:
Where is the victim?
What happened?
Who suffered?
The type of damage?
Who's calling?
Wait for further instructions!
After that, you can provide first aid:
Watch out for their safety before starting to help others. If your life has no danger, commence first aid. Lay the person, and are with him. Affected people usually can't carry many things, and they need help to realize that help is on the way.
Ask others to send help specifically to your position. The ambulance or paramedic is on the way!
Cover the victim from prying eyes, since normally amazed people don't like other people's views. This is important to many victims!
Police
Of course, the festival is the police. The post operates 24 hours a day, and he's here specifically for you. Stole cell phone? Let me know. A threat to property? Let me know. Do not hide information about what is happening something suspicious. It is better to give a false alarm than not to talk about anything.
Thieves
As you know, the tent won't keep thieves away, even if it's for sleeping people. Therefore:
Keep to yourself as much as possible small valuable items.
Large valuable items should be turned in at the camera store.
According to statistics, thieves are most active in the day and the opening of the festival in district 3...6 o'clock in the morning. This has the joy of arrival to the festival, especially when no one expects thieves than they are.
It happens that during concerts phone and wallet stolen while people are in the crowd. Therefore: it is better not to carry those things that you currently do not need. Also, keep an eye on things, and for persons who are in the crowd, but don't listen to music.
Mobile phones are often. So please report every case of theft the police. Even if you "only" lost your phone. Lost items can usually be found at the information Desk, so, to allegations of missing, check there first. After the festival found items will be kept by the organizers. On the official website you can find information on how to contact the organizers.
Fires
Remember: use only approved gas containers, no open flames, be sure your grill is definitely extinguished before you leave the campsite and do not throw cigarette butts anywhere. In case of danger of fire, you must act quickly, because the longer the fire burns, the harder it is to extinguish, so the first dial 112 and eating you don't have a mobile - ask the other to make a call, or contact the nearest security guard. The operator will redirect your call to the fire brigade on the festival grounds. Be prepared to answer the following questions - where's the fire that burns, the number of victims. Watch your security, do not help others until you are sure that it is safe for you. After that, you can provide medical care:
Remove affected people from the area of the fire.
Lay the person, and are with him. Affected people usually can't carry many things, and they need help to realize that help is on the way.
Ask others to send help specifically to your position. The ambulance or paramedic is on the way!
Cover the victim from prying eyes, since normally amazed people don't like other people's views. This is important to many victims!
Remember - 80% of victims of fire die from suffocation by the poisonous smoke, so never inhale the smoke and always keep an eye on their own security.
If you want to use a gas torch - you can find them at volunteers (about bars and stalls selling food, about soul and about each emergency room).
Evacuation
The safest place in the festival out of the field this is the car. In your car you are protected from most hazards. In the case of emergency evacuation, you can find a lot of emergency exits on the festival site - they are marked on the plan of the festival.
Looking at the plan of the festival will remember where the nearest emergency exit. In the event of an evacuation, remain calm. Help those who need help.
Prohibited
Knives, sharp objects (e.g. nail files, screwdrivers, brass knuckles), any glassware (perfume bottles), plastic bottles, cans, however, allowed the festival the festival glasses and bottle, which you get with the FMB (Full Metal Bag).
Any banks (for example, beer, hair spray, deodorant, pepper spray and tear gas).
Camcorders and professional camera (eg SLR). To take photos you can use digital cameras or their mobile phones.Riveted bracelets (the height of the studs more than 1cm rings and riveted straps.
With sharpened studs with a height of more than 1.5 cm and the straps of the ammunition pouches.All types of chains, but chain wallets are allowed.
Flagpoles and flags, except those with official symbols of Wacken.
Any kind of pyrotechnic objects, including fireworks - applicable to all zones, including the campground.
Vuvuzelas, megaphones, etc...In the case of conflicts, please contact the attendant on duty, you will be able to identify blue or red Polo shirts.
Pyrotechnics and fireworks are strictly prohibited.
App
Download the official W:O:A: the app provides access to the latest news, the complete list of groups at the event and the actual order of performance.
You can also add individual groups and events to your favorites to get a notification just before the band come on stage! And if you have problems to find the desired scene, use a detailed map of the festival, which is included in the same application.
List of application functions:
News - stay up to date on all events during and after the festival
Bands / Billing Group is a full list of all performances
RunningOrder - find out what bands are playing when and where!
MyFestivalArea - save your favorite performances and will receive a reminder to come to the stage in time
Maps - detailed maps of the festival grounds
Social Media – Facebook and Twitter festival
SpotifyPlaylist - our official playlist with the performances of the festival
Tickets
Tickets for Wacken Open Air 2018 only available in a few selected partners. They are all listed on Wacken.com. Do not buy tickets from a dealer not listed here constantly occur attempts of fraud: https://www.wacken.com/en/travel/official-travel-p...
The fastest way to get a Wacken ticket is www.metaltix.com! This is a direct source of ticket to the festival without additional options.
What options includes a ticket?
W: O: A is not just a classical music festival! Each ticket includes the following products and services:
Access to camps from Monday 30 July 2018
Camping next to your car!
The use of all showers and toilets for free
Live music from Wednesday, August 1, 2018, until Saturday, 4 August 2018
More than 100 presentations distributed across eight scenes
An extensive program of such areas as Medieval and post-Apocalypse
The ticket price for 3 days - 220 Euro. This price includes payment for booking of ticket. Delivery and system charges will be added to the store. To sell day tickets.
Metaltix.com also offers a special t-shirt W:O:A for the 2018 16,99 € as an additional kit.
Good to know: ticket price does not change when you buy your ticket through one of our partners!
Please note:
You will find a new map of the W: O: A, attached to the back of hardticket. This is the actual ticket for W: O: A 2018! The cardboard ticket is just a souvenir for your collection. This new format is convenient, fits in any pocket and is resistant to damage.
See you in 2018 - Rain or Shine!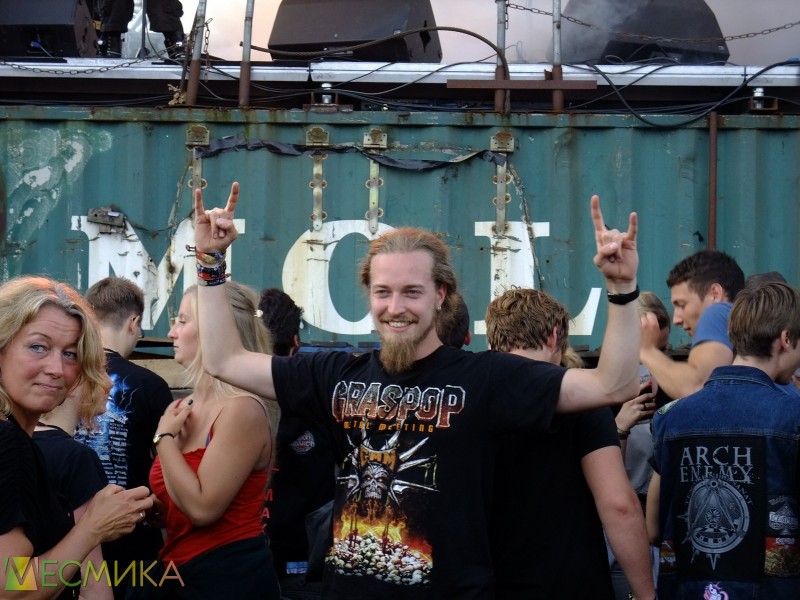 News
No news to display