22 July in the Park of Internationalists will host a free jazz festival "White nights in Kupchino"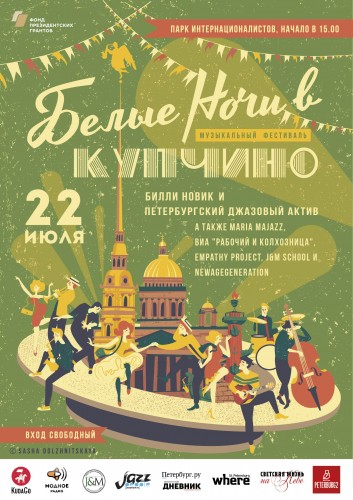 The timing of the festival:
22 Jul 2018
The venue of the festival:
the Park Internationalists (from the prospect of Fame)
A visa is required:
for citizens of Russia is required
On July 22, in Sochi will host the second festival project Billy Novick "St. Petersburg jazz to the masses". Bright summer jazz celebration for the whole family will unfold at the music venue under the open sky surrounded by a green Park. Well-known St. Petersburg jazz musicians, led by Billy Novick will perform music from mainstream jazz to contemporary compositions. Sparkling improvisation, dance rhythms, the opportunity to enjoy the music, comfortably ensconced on the green lawn in the Park will make the hours-long jazz celebration a memorable event of the summer.

The summer festival will feature the legendary resident Kupchino and his "St. Petersburg jazz Aktiv", a rousing retro-swing ensemble "worker and collective farm girl", romantic Maria Majazz, full of refined aesthetics staff Empathy Project, the creative vocal lab NewAgeGeneration, students only school of jazz and musical J&M School, and many others.

The project "St. Petersburg jazz to the masses" was successfully launched in March, gathered a full house at the first festival in the club "Gestalt". Through the project, citizens and guests of the city acquainted with the jazz culture of St. Petersburg, and the young jazz musicians have an opportunity to present their art to a wider audience. Presenter – Billy Novick. Co-chair – Alexander Butkeev.

The project is being implemented through a grant of the President of the Russian Federation on development of civil society provided by the presidential grants.
Festival starts at 15:00
Address: Park of Internationalists (from the prospect of Fame)
Entrance to the festival is free
Read more: https://vk.com/whitenightsinkupchino
News
No news to display