Festival Live Fest Summer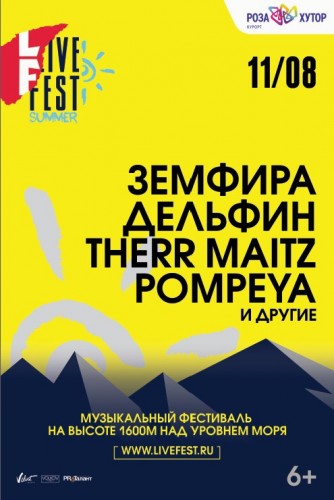 The timing of the festival:
11 Aug 2018
The venue of the festival:
"Rosa Khutor" (Sochi)
A visa is required:
for citizens of Russia is required
Festival Live Summer Fest is proud to announce a program of all platforms!
We have for you
-three of the most scandalous singer of the country
-poet, tearing the soul to shreds,
epic indie from the star of "the Voice",
-as well as red-haired beast, Russian Duran Duran and the man who knows all about happiness.
And many others!
The main stage at an altitude of 1600 m will start to work at 15-00 .
The program will open the festival presenter Alexander Anatolyevich.
In 15-30 come on stage the group "Both Two".
Immediately after it will deliver major new star of 2018, the most talked about musician this summer - Monetochka. The beginning of the set at 16-15.
In 17-00 its long-awaited new album, "Dreamers" will present the band Pompeya.
In 18-00 on the stage will rise the participants in the most popular indie groups in Russia Therr Maitz. At the head of the team - the darling Anton Belyaev.
At 19-30 , will speak of the legendary poet and musician Dolphin, whose album "442" became the most discussed entry.
At 21-00 on the background of mountain peaks begin speech Zemfira. Play at Live Fest Summer will be the final in its series of summer concerts, a kind of summary of a stormy summer festival.
But that's not all!
The program Live Summer Fest - performances at the free festival venue "POLDNIK", which will be located on the town hall square of the Rosa Khutor resort.
Timetable stage "POLDNIK" looks like this:
13-00 - indie pop singer and fashion designer Chloe
14-00 - talented producer and performer of ragamuffin Ringing
15-00 - Buckwheat, forced to speak about itself all, from the producers of "Kinotavr" to Zemfira.
16-00 - perhaps the most gifted songwriter of a new generation of independent musicians SIROTKIN
At 17-00 I will begin the classic Russian electronic music, DJ virtuoso and one of the ideologists of Russian rave DJ Groove
Dance block scene "POLDNIK" 18-00 continue DJ Hustler.
Important! All the artists will play full sets. You will have the opportunity to enjoy the music of your favorite musicians in full concert volume.
How to warm up to the rich festival program will be the day before, on August 10, the pre-party at the restaurant Backstage. Performances of Buckwheat, Moniecki, Ringing and Chloe. And for those who will be a little of all the above, we are throwing the after party in the small hall "rose Hall". Involved DJ Hustler and DJ's Make Me .
News
No news to display