The 12th Annual festival for teenagers and young people "WORLD WITHOUT DRUGS"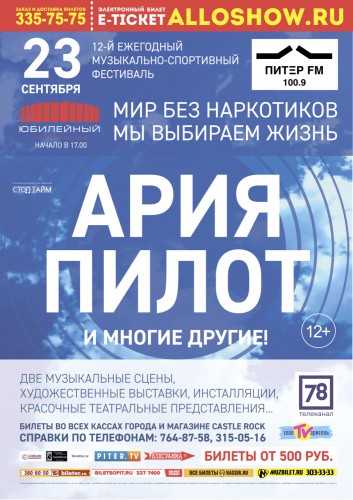 The timing of the festival:
23 Sep 2018
The venue of the festival:
Saint-Petersburg, PR. Pyatiletok, 1
A visa is required:
For citizens of Russia is required
September 23, at the sports Complex "Jubilee", famous musicians, athletes, artists, and theatre artists will meet again to openly talk about one of the most urgent problems of Russian reality – the problem of drug addiction and alcoholism. According to the organizers, a six-hour marathon, filled with pure art, active and healthy rest that will carry all the joy of the untroubled mind, and candid video footage, performances of former drug addicts and prominent figures in the arts, leading a healthy lifestyle will be able to put an end to the dubious "romance" of self-destruction. The festival program will encompass two music scene. The main stage will be given by the performances of the headliners: group "Aria" and "Pilot", which will present a full program and will be interspersed with demonstration of thematic videos and stories of former patients of narcoclinic. The organizers of the "World without drugs" do not aim a formal promotion of a healthy lifestyle, but strive to give everyone the opportunity to make an informed choice!
Beginning at 17.00. Tickets in all cash desks of the city, the price is 500 p. 12+
News
No news to display