Mexican Day of the Dead will celebrate at the Starcon Festival: Halloween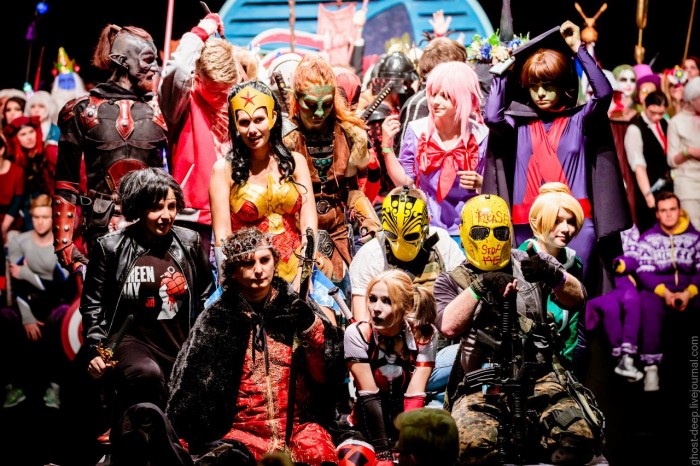 The timing of the festival:
3 ​и 4 ноября 2018
The venue of the festival:
Exhibition Complex Lenexpo: Russia, St. Petersburg, Bolshoy Prospect V.O. 103
A visa is required:
not required for Russian citizens
On 3 and 4 November in Saint-Petersburg in the exhibition complex "Lenexpo" in the third time the festival of fiction, film and horror Starcon: Halloween. The main theme this year was the colorful Mexican holiday Día de los Muertos. The frightening atmosphere of Halloween and the bright Day of the Dead, two holidays in one event.
StarKON: Halloween is 10 interactive booths and sinister decorations, carnival the walking dead, 500 participants in the images of favorite characters, exciting quest, with prizes for the cult horor universe, unique themed fair, movie premieres, communication with artists, bloggers, and major Mexican party. The cinema of StarKON will enjoy cool movies, premieres and meetings with movie stars. The festival will take place the presentation of the steampunk film "Abigail" and horror film "Dawn." Director of the short film "Papers, Please" will bring exclusive content of his new work based on the game "Beholder". "The curse of the Nuns" and "overlord" free show for visitors in the framework of the "Night of rotten tomatoes".
For fans of adventures through time and space to host a special screening of the first series of the new season of "Doctor Who". Art-area of Starcon will introduce with dozens of artists, sculptors and authors of graphic novels.
In the program creative lectures, meetings with well-known bloggers. Will work area of the animation will be interesting workshops. Traditionally, the festival will host the cosplay contest, the jury will choose the scary images.
A two day extravaganza of shows and performances on the main stage. Hundreds of participants from different cities of Russia will be competing in ten categories. This year at the party to zombies, vampires and other evil spirits join the spirits of the underworld.
Catchy music, contests, Mexican food and bar special in the entourage of charming Día de los Muertos. The party will open doors for the adult visitors of the festival on 3 November at 21:00.
StarKON: Halloween is a holiday for everyone. In 2003, UNESCO inscribed the day of the Dead in the list of intangible cultural heritage of humanity. To feel the atmosphere of fun do not have to buy an expensive suit. A sombrero and a fake moustache, make-up can be done on the spot. Come with friends and children, terrified and entertained on 3 and 4 November! Hurry up to buy a ticket for the scary-fiction crowd: starcon.pro
Festival schedule:
Saturday 3 Nov:
12:00 – 20:00 on the 1st day of the festival
13:00 – 13:40 opening Ceremony on the main stage
13:00 – 20:00 Lectures and master classes in the Art area
14:00 – 2:00 Cinema
20:00 – 1:00 Party "Día de los Muertos" (18+)
Sunday November 4:
12:00 – 20:00 day 2 of the festival
13:00 – 20:00 Cinema
12:00 – 20:00 Lectures and master classes in the Art area
News
No news to display