DISCO 80th: XVII international festival will be held in SC Olympic 24 November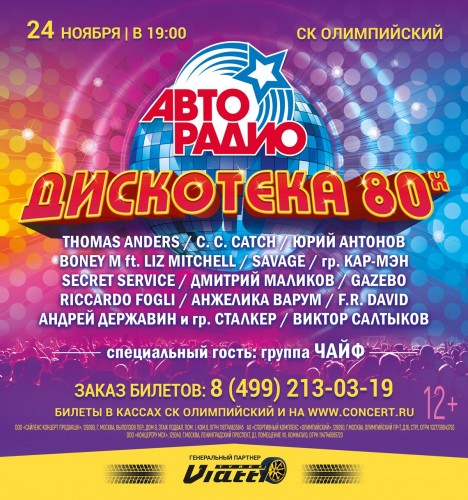 The timing of the festival:
Nov, 24
The venue of the festival:
Olympiisky, Olympic Avenue, 16 Building 1, Moscow
A visa is required:
for citizens of Russia is not required
17 "Disco 80's" will take place in the year of the 25th anniversary of "Autoradio" and promises to be especially vivid and memorable. On a scene "Olympic" will be legendary artists of the disco era, including world stars, whose hits in his time agitated the minds was reassuring and hope – for freedom, love, change for the better... Thomas Anders, C. C. Catch, Yuri Antonov, Boney M ft. Liz Mitchell, Savage, "Kar-man", Secret Service, Dmitry Malikov, Gazebo, Riccardo Fogli, F. R. David, Andrey Derzhavin and group Stalker, Victor Saltykov – this is not a complete list of all participants of the festival "Autoradio".
This year's special guest group "Chaif". The musicians will first perform on the main disco of the country, and therefore is an excellent opportunity to hear good songs and be in a orange mood, which will last a very long time.
Today, in an age of speed and stress, dependence on social networking and the Internet, "Disco 80-x" again gives people the opportunity to at least briefly return to where they were well: when you could just be happy without "likes", retweets and shares, to enjoy every minute of communication with friends, to dance and sing along to their favorite melodies.
Words can't tell – it is necessary to feel and see with your own eyes! "Disco 80's" show, which is worth visiting to experience fully the power and drive of the legendary hits.
This fall, each will again have a chance to make a journey into the world of music from the 80s. don't miss one of the most important musical events of the country!
Details 17 "Disco 80's" in the air "Autoradio", www.avtoradio.ru and www.disco80.ruand also in the official group of radio stations in social networks.
-------------
International music festival "Autoradio" – "Disco 80's" – has been held since 2002. "Disco 80" – winner of the award "EFFIE 2003", winner of "MK" "ZD Awards 2003", winner of the national contest "Radiomania". The website of the festival "Disco 80s" (www.disco80.ru) – winner of the award "Internit'2005". General producer of the International music festival "Disco 80's" – Yury Kostin. Executive producer of "Disco 80s" – Maryam Queen.
News
No news to display