FROST FEST 2019 will take place on 3-4 January in Moscow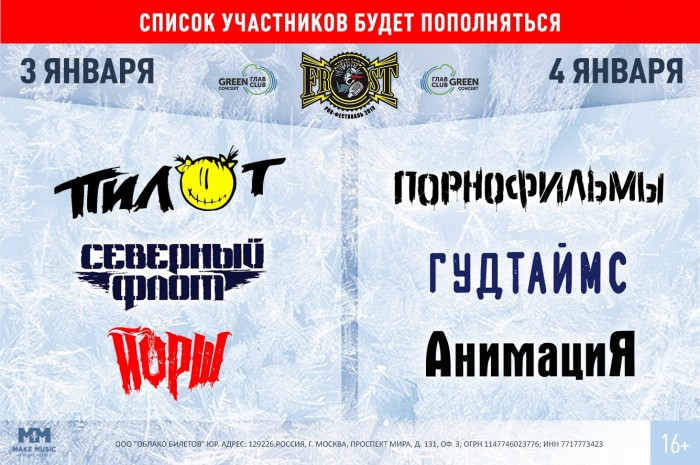 The timing of the festival:
3 January, 19:00 — Jan 4 at 23:00
The venue of the festival:
Club "GlavClub Green Concert", St. Ordzhonikidze, 11
A visa is required:
Not required
FROST FEST is the largest new year rock festival in Russia, which in 2019 will celebrate its 8th anniversary! This time our celebration will last for 2 days! Let's have fun let's dance!
Traditionally, the festival will feature the best rock bands in the country, which will give all visitors an unforgettable Christmas mood, emotion and love!
The first festival "the FROST" took place in the distant 2012, in St. Petersburg, and immediately took a firm place in a series of the best Russian rock festivals.
In the entire history of the festival on stage in front of a wide audience was made by such famous rock groups as: КняZz, Kukryniksy, Brigadier Row, the Roman Rhine, Louna, Lumen, F. P. G., Cockroaches!, Stigmata, Slot, Elysium, 7B,**filmi, Northern Fleet.
From year to year, "FROST" keeps the tradition and remains a festival with an amazing atmosphere of freedom, friendship and celebration.
Participants:
Eorsi
Animation
Porn
Pilot
The Northern Fleet
Goodtimes
7 party will soon be announced!
8 party soon to be announced!
The list of participants will be updated! Tickets on sale from October 16. Follow the information in the meeting :)
News
No news to display