The festival "chart dozen" on February 16, 2019 in Saint-Petersburg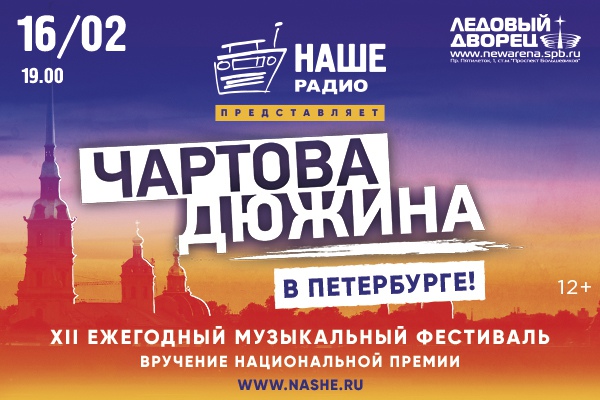 The timing of the festival:
16 Feb 2019
The venue of the festival:
Ice Palace, Pyatiletok prospect, 1
A visa is required:
Not required
Festival Nashe Radio "chart dozen" on the 16th of February 2019 in the "ice Palace" in Saint-Petersburg!
For the first time in his impressive 12-year history of the Annual national music award "chart dozen" will be held at the epicenter of the birth of Russian rock music — Petersburg. In 2019 the legendary festival and the awards ceremony will be moved to one of the most spacious venues of the Northern capital, "the Ice Palace". Large-scale show will highlight all the achievements of the domestic music industry over the past year and unite on the same stage as the masters of the genre, and bright young performers, falling on top of the eponymous hit parade in 2018, and among the ceremony participants noted the well-known actors, journalists, music critics and other representatives of St. Petersburg's cultural community.
Tickets: https://spb.kassir.ru/koncert/chartova-dyujina---2...
News
No news to display