April 5 in Moscow, the festival will take place the new rap Foucault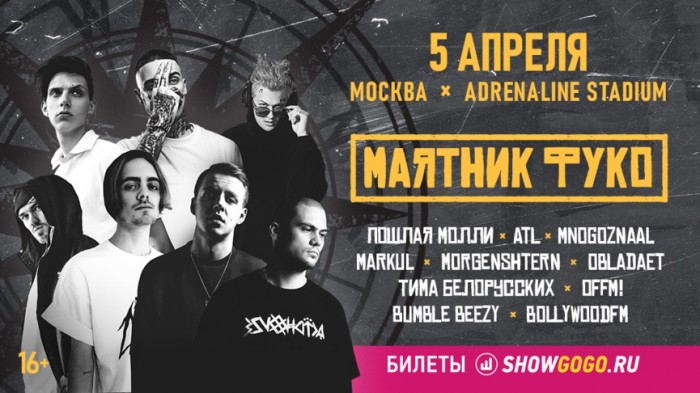 The timing of the festival:
April 5, 2019; 20:00
The venue of the festival:
Club Adrenaline Stadium, Leningradsky Avenue, 80, k.17, Moscow
A visa is required:
For citizens of Russia is not required
5 April 2019 in Moscow will take place the premiere of the new festival, rap Foucault's Pendulum. In 2018, the twice festival was successfully held in Saint-Petersburg.
On it were: Pharaoh, Big Russian Boss, ATL, Husky, Malbec and Suzanne, Monetochka, Vulgar, Molly, DK, Bread, T-Fest, Boulevard Depo, Big BabyTape, Feduk, Morgenshtern, and others.
Relevant artists of his time, huge production, technical flow, powerful sound and a nice vibe — this furious cocktail only on 5 April on the stage of the Adrenaline Stadium.
An impressive line-up of the festival:
Dirty Molly
ATL
MNOGOZNAAL
Stairs
МORGENSHTERN
OBLADAET
Tim Belarusian
OFFMi
BUMBLE BEEZY
Bildete: BUY
Follow the news: https://vk.com/thisisfuckomsk
News
No news to display