FANNY ARA (USA-Spain-France) on the Fifth Experimental Flamenco Festival ALTERNATIVO V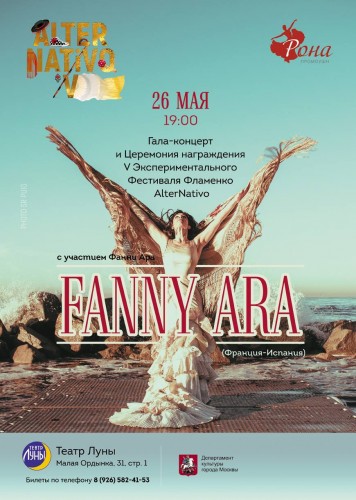 The timing of the festival:
From 24 to 26 may
The venue of the festival:
Moon theatre, Malaya Ordynka street, 31, building 1, Moscow
A visa is required:
for citizens of Russia is not required
With 24 on 26 may in Moscow in the theater of the moon will be one of the brightest events in the cultural life of the capital – the Fifth Experimental Festival Flamenco "EN V" !
For 5 years the Festival has gladdened and inspired the audience with his program, the new impression of this 5th season is the participation of world-renowned and award-winning choreographer and dancer Fanny Ara (Ara Fanny) (Award of new York's Vilcek Foundation, 2012. award of Isadora Duncan in the category "Most outstanding dancer", 2006. etc.)
During the three days of the festival, lovers of Spanish culture expect competitive performances of the most interesting artists of contemporary flamenco dance from Russia, master classes, gala concert and various surprises.
The schedule of the Festival 2019 in MOSCOW:
24 may
20.00 – 22.00 Houseflamenco "Flamenquería" Modern flamenco with a shawl, choreography (master class)
25 may the Houseof flamenco "Flamenquería" 11.00 – 13.00 Flamenco barefoot (master class)
13.30 – 15.30 the Creation of the dance (master class)
17.00 – 19.00 Contemporary flamenco with a shawl, choreography (master class)
May 26, the Moscow Theatre of the moon 14.00 competition of the Festival
19.00 awards Ceremony and GALA Concert- bright performances of the winners of the festival, the solemn awarding of prizes, performance of star Fanny Ara: development of flamenco from tradition to avant-garde!
Special guest – Fanny Ara
News
No news to display