The first and last open air festival Locofest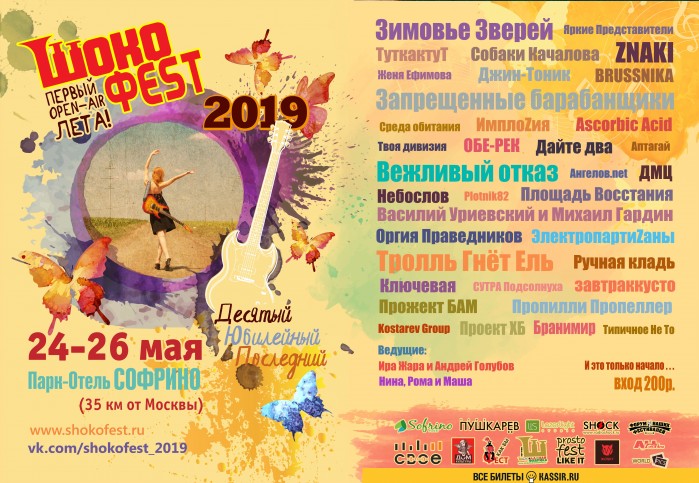 The timing of the festival:
24 - 26 may 2019
The venue of the festival:
Moscow region, Pushkinskiy R-n, p/about Talitsy, Park-hotel "Sofrino"
A visa is required:
for citizens of Russia is not required
The program of the festival:
3 scenes
Theater and poetry
Contests and entertainment
Fair
Food market
Kids club
Workshops
Quests
Exhibition
Fishing
and much more.
Description:
In 2013, 24 may art floor "Chocolate factory", headed by Elena Lileeva and festival "Prostofest" led by Dan Melnikov and Anna Fomina opened a creative open-air festival "Chocofest" under the resurrection. Since 7 years we are visited by enthusiastic, caring, sincere people from all parts of Russia, Europe and Asia. "White mountain", Bakovka, airfield Shevlino, Usadba Otrada Park hotel Sofrino, lake Borovoe, all of this geography have collected more than 1000 musicians, more than 20 000 guests and friends, more than 400,000 Watts of sound and an infinite number of applause.
Chocofest exists independently of weather phenomena, religious and political creeds, musical tastes and other contingencies. Chocofest is a nonprofit festival that has no genre or style limitations, there is a "drive" is the same - bright, touching, smart or just fun, i.e. alive!
As 7 years ago, 24, 25 and 26 may Chocofest will open the festival season and, of course, surprises, lots of surprises!
And the first of them this year Chocofest finishes his story and awaits all friends and relatives are important and necessary, the curious and inquisitive, and all concerned, to meet the summer music and communicate, and pursue our chocolate friend with joy.
You want a holiday, emotion, drive and love. So, let's "sarocladium" this reality, as we know, as we were taught and how we did it!
We are waiting for!
Participants:
Both rivers
Elektroporcelany
Prohibited drummers
A polite refusal
Troll Gnet El
Dmts
Sobaki Kachalova
Gin and tonic
Orgy Of The Righteous
Propelle Propeller
Project BAM
Basil Urievsky and Michael Gardin
Give two
ZNAKI
Project HB
Zavtrakat
Branimir
The area of the rebellion
Key
Tuckett
Nabokov
Имплоzия
BRUSSNIKA
Eugene Efimov
Zimov'e Beasts
Ангелов.net
Plotnik82
Your division
Habitat
the participants filled up by

How to get to the festival Locofest
By public transport:
from the Yaroslavsky station by train to the station Sofrino (journey time less than 1 hour), then by route taxi №59, the stop is on the right (facing from Moscow) at the railway crossing.
Personal transport:
47-th km of the Yaroslavl highway (30 km from MKAD) - turn right (just past the police post), after 1 km turn left at the sign "the Village comme Il Faut".
GPS coordinates:
GPS_E: 37.98373
GPS_N: 56.104531
Website: shokofest.ru
SOC.network: https://vk.com/shokofest
https://vk.com/shokofest_2019
News
No news to display