On StandUp Festival in St. Petersburg best comedians will be awarded Cleanser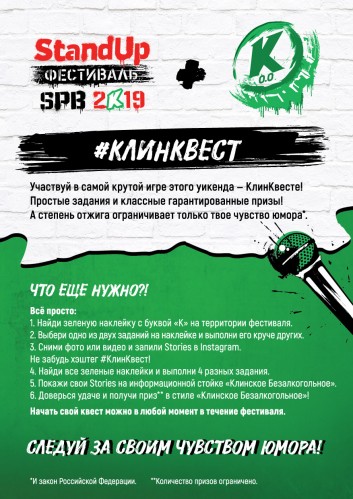 The timing of the festival:
14-16 June 2019
The venue of the festival:
Saint-Petersburg, Manezh square
A visa is required:
For citizens of Russia is required
On StandUp Festival in St. Petersburg best comedians will be awarded CleanserWith
14 to 16 June in Saint-Petersburg will host StandUp Festival is the largest celebration of humor and laughter in Russia. Two days Manezh square in St. Petersburg will be the center of humor, where he will present the best comedians from Russia and other countries of the world. Participants will be able to Express themselves and to present their talent and scintillating monologues.This year "Klin Soft" will give every evening the most ingenious special prize "Cleanser". In addition to gifts for comedians the most favorite youth brand has prepared for the guests a lot of exciting activities, through which each of them will feel their involvement in the best stand-up party.

For three days at the festival will be a quest in which can participate all interested persons. Most casino guests will be required to perform four tasks and to put stories in Instagram with the hashtag #Clinquest. Those who pass all tests will have to wait for prizes from the brand.

"Lightness, irony, emancipation vividly embodied in the brand, that is why "Klin Soft" and stand-up Comedy show fantastic work. We are pleased to join StandUp festival, this celebration of humor, and to maximize opportunities guests: we will not give bored for those who are waiting out the beloved comedian", — said Konstantin Tamirov, marketing Director AB InBev Efes.
News
No news to display