International music festival "White nights"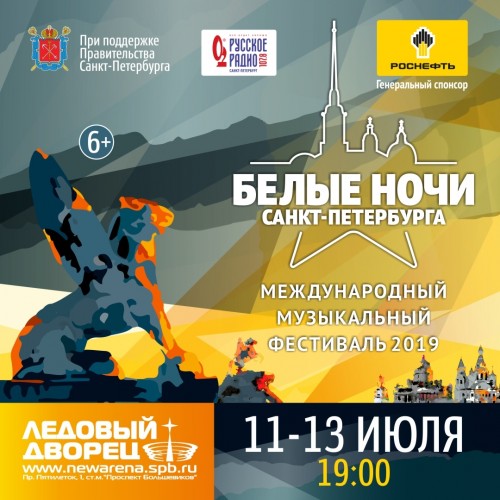 The timing of the festival:
July 11-13, 2019
The venue of the festival:
Saint Petersburg, Ice Palace
A visa is required:
For citizens of Russia is required
From 11 to 13 July 2019 in Saint-Petersburg will host the international Music Festival "White Nights of St. Petersburg". As guests of the Festival of Saint-Petersburg will be visited by global stars such as Joss stone, Chris Norman, Level 42, Bonnie Tyler, mark Farner. Among Russian artists in the "White nights" stated Grigory Leps, Dima Bilan, Loboda, the group "Earthlings" and many others.
The festival is held in the Northern capital is not the first year and continues to be the most Grand and favorite event in the field of popular music not only in Russia but throughout Eastern Europe. More than 25 years of its existence, "White Nights of St. Petersburg" became one of the most anticipated musical events. The festival is known far beyond the borders of our country and allows to fix in the minds of the young generation the image of Russia and St. Petersburg as a center of musical culture.
The festival traditionally gathers in St. Petersburg the most famous international stars and for years was one of the landmarks of the Northern capital. The leaders of the Russian scene, international stars and special guests annually attend this major event.
In different years the Festival became A-Ha, Paula Abdul, Anastasha, Busta Rimes, Eros Ramazzotti, Whitesnake, Joe Cocker, Jose Carreras, Chris Rea, Status Quo, Brian may (ex. Queen), Julio Iglesias, Ringo Starr, Deep Purple, Kevin costner, woody Allen, The Jacksons, Scorpions, Alain Delon, Zucchero, Jason Derulo, Sarah Connor, Earth Wind and Fire and many others.
The festival "White Nights of St. Petersburg" supported by the stream of the First channel, and 2019 will be no exception. "White Nights of St. Petersburg" will be the most memorable event of the summer in the Northern capital!
Waiting for You from 11 to 13 July International Music Festival "White Nights of St. Petersburg"!
General sponsor – the Oil company "Rosneft".
Official website of the festival "White Nights of St. Petersburg :http://wnfestival.ru/
VK group:https://vk.com/club25419112
Tickets for the festival"White nights of St. Petersburg" from 500 RUB.: www.alloshow.ru
News
No news to display