ALIVE! 2019 – 10 and 11 August in the SEC SUMMER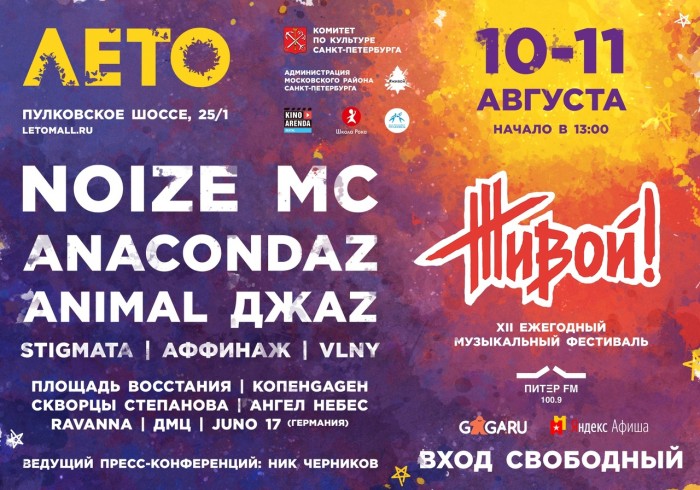 The timing of the festival:
On 10 and 11 August 2019
The venue of the festival:
Saint-Petersburg TRK Leto, Pulkovskoe shosse, 25k1
A visa is required:
For citizens of Russia is required
The largest non-commercial festival of Saint-Petersburg continues a vivid story! Happy twelfth time the "LIVE!" will be held on 10 and 11 August 2019 on the square at TRC SUMMER.
On stage this year: Noize MC, Anacondaz, Animal Jazz, Refining, STIGMATA, VLNY, Vosstaniya Square, Starlings Stepanova, the КОПЕНGAGEН, angel of Heaven, RAVANNA, the Roads Change Color, Shiva, as well as the winners of the qualifying rounds. For the first time in the festival's history the qualifying rounds were held in several cities: St. Petersburg, Moscow, Veliky Novgorod and Pskov.
In addition to the musical program, guests of the festival will find plenty of entertainment: a sports ground, a children's tent, space Board games, a photo gallery, a food court, musical master classes and autograph sessions with the stars. A leading press-conferences with actors – blogger, Nick Chernikov!
The beginning of the festival at 13:00. Admission is free. 16+.
The festival was organised by the interregional Public Organization "Living St. Petersburg" with support of Committee for Culture of St. Petersburg and the Administration of the Moscow district.
—
On 10 and 11 August 2019
TRK LETO, Pulkovskoe shosse, 25k1
Beginning at 13:00
Official meeting of the festival in the VC: vk.com/zhivoyfest2019
Instagram: instagram.com/zhivoyfest
News
No news to display