Festival GAZA: 55 Yuri How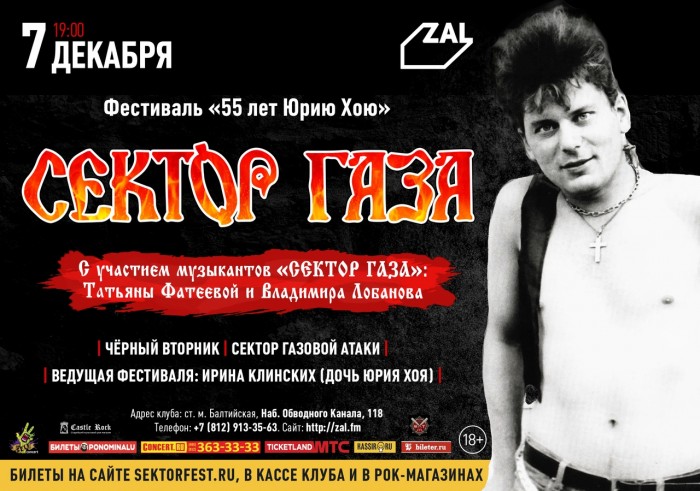 The timing of the festival:
7 Dec 2019
A visa is required:
For citizens of Russia is required
December 7-club ZAL
Entrance from 18:00 | Start 19:00
Tickets https://vk.cc/9yFKh2
I think this group needs no introduction. Regardless of age or musical taste you know exactly what a "Gaza strip".
Formed at the dawn of perestroika, 5 December 1987, the musicians of "Sectors" headed by Yuri klinskikh (Haem) were able to find the simplest way into the hearts of millions of listeners in the former Soviet Union, and in fact – all over the world. Boldly experimenting with genres, touching those aspects of life which are accepted to remain silent, Yuri with his songs managed to popularize rock music among the people, it would seem that it must be alien. "Gaza" was the undisputed leader in sales of cassettes and CDs in the "dashing 90-e". They were so loved and hated at the same time. Interest in the group is not extinguished even after the tragic death of Yuri klinskikh in July 2000.
In 2019, Yuri would have turned 55 years...
In honor of this date, December 7 at club ZAL, with the participation of the eldest daughter of Yuri Hoey, Irene Klin, we will gather at the festival dedicated to the legendary group "Sector Gaza". You will hear all the top songs of Yuri klinskikh, and the highlight of the evening will add that the concert will involve the band "Sector Gaza": Vladimir Lobanov and Tatiana Fateeva.
Also on stage you will see the show from the official tribute band "Black Tuesday" and the performance of the group "Sector of the Gas Attack."
News
No news to display