XX international festival "Triumph of jazz"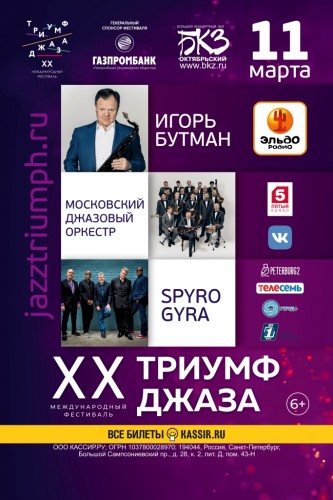 The timing of the festival:
11 Mar 2019
A visa is required:
For citizens of Russia is required
XX international festival "Triumph of jazz" will open in Petersburg a concert of the legendary group Spyro Gyra
11 March in Saint-Petersburg in BKZ "October" will open the XX anniversary of the "Triumph of Jazz", the headliner of the concert will be Spyro Gyra. This American legendary jazz group first performance in St. Petersburg, participants of the gala opening concert of the festival will also be Igor Butman, Moscow jazz orchestra and special guests. The festival will continue in Tula and completed a three-day program of concerts in Moscow.
The group Spyro Gyra - twelve-time nominee for a Grammy award and one of the most popular and commercially successful bands in the genres of jazz fusion and smooth jazz. The group was founded in 1974 and continues his active concert work, being a frequent and a welcome guest at the world's largest music festivals.
Exquisite and eye-catching eclectic style Spyro Gyra - a combination of light jazz sound with elements of funk, R&B, world music and fine shades of Latin music brought musicians of international fame.
Almost every album has become a significant event in the musical world. Confirming the reputation of a unique and highly professional team on the contemporary jazz scene for four decades, the band Spyro Gyra and each of his new work demonstrating the inexhaustible creative potential.
At the beginning of the new Millennium world-famous saxophonist Igor Butman, famous as a jazz producer. In 2001, he created one of the largest and most successful festivals of the world level - "Triumph of jazz", which became a real cultural phenomenon in Russian music.
In the history of the festival of Moscow and St. Petersburg audiences were able to see and hear musicians, whose appearance in Russia was hard to imagine. It was on the invitation of Igor Butman in front of the fans brought the legends of world jazz scene, bringing together generations and cultures: Elvin Jones, Gary Burton, Joe Lovano, McCoy Tyner, Mike stern, Billy Cobham, Larry Coryell, Lee Ritenour, Joshua Redman, Dee Dee Bridgewater, Ahmad Jamal, Randy Brecker, Toots tielemans, Gino Vanelli, Lee Konitz, Take6, lenny white, Roy Heinz, Dave Holland, Roy Hargrove, Bob James, Robert Glasper and many other superstars, rightfully representing jazz on a planetary scale.
Help.
In 2019 the Moscow jazz orchestra under control of Igor Butman celebrates 20-year Anniversary. Over the years the band has established itself as one of the leading orchestras in the world. For 20 years, the musicians regularly represent our country at the most prestigious festivals in Europe, Asia and America. In 2018, the big band became the world's first orchestra to perform on the main jazz event of the planet - All-Star Global Concert for International Jazz Day.
Tickets: #performance=17929019" target="_blank">http://www.bkz.ru/afisha/#performance=17929019
Website: https://www.jazztriumph.ru/
News
No news to display