The acting festival of jazz "jazz Leap"
The timing of the festival:
29 February 2020
The venue of the festival:
Moscow New Arbat, 36
A visa is required:
For citizens of Russia is not required
Jazz festival theatre last day of winter in the Concert hall on Novy Arbat will happen special event – festival of actor jazz.
Participants of the festival:
Horonko-orchestra
Horonko-the orchestra – it is a unique collective of professional musicians, who heads the drama actor Dmitry horonko. It's not so much an orchestra, as the theater of jazz, which is improvisation and direct communication with the audience. Every composition or song is a small performance that has its image, character and filled with passion and story conflicts.
Ekaterina Volkova and Agafonnikov-Band
Ekaterina Volkova – actress, singer and model. She is known for roles in films and serials "Kept woman", "women in love", "the Collector", "Inhale-exhale" and many others. Together with the team of Vladimir Agafonnikov Catherine performs with the jazz program. It includes songs in the style of "Pop-Jazz music" of the 20s-40s of the XX century: the well known hits and songs on poems by Denis Nana.
Meek and friends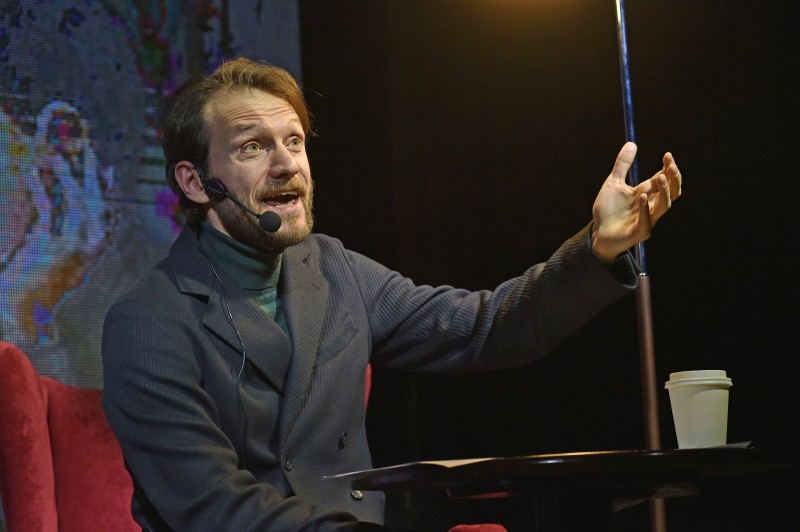 Team stage actor Alexander Smirnov. In 2000-ies he played in the KVN team "Parma" and starred in several television projects. In June 2018 with one of the songs Alexander took part in the competition "Romance of the 21st century" on the channel "Culture". The musicians perform more "Rumba, tango, waltzes and swings" about the vicissitudes of human existence. Humor, sadness, empathy.
Olga and Alena zakharovy, zykovy, Konstantin Ugwa. Musical performance "of jamais vu, or Honey, where's your tie?"
A story where the dialogues are not only actors, but also musical instruments.
Alena Zakharova is an actress and theater actor, Director of Moscow state theatre "theatre of the moon".
Konstantin Ugwa – the actor, the soloist of the Operetta theatre. The leading roles in the musical Nord-OST, Trap, treasure Island and the Ballad of little heart.
Olga Zakharova is one of the few women in Russia, playing on the baritone saxophone. Laureate of international competitions, member of the group "Nogu Svelo". Collaborating with the best Blues performers (Michael Mishuris, Vladimir Rusinov, Nick Barrel, Frank Ash, Dave Ellis, and many others).
Festival presenter – Igor Kovalenko. Poet, songwriter and showman. Member and later captain of TV KVN team "national Team of the Crimea", resident of Comedy Club, participant of the project "Laughter without rules" "Lethal League", "Slaughter night" on TNT, host of the show "Top Girl" on TV channel "Russia-2", etc.
Leap jazz – this is no ordinary music, these are songs, not just singing – they play as theatrical performance. It's not calibrated, rehearsed to the last word show, and a live – eccentric, funny, sad, sometimes tender, sometimes rough. And as in life, the festival can happen, anything. If you are not afraid of twists and turns, expression and "inelegant" language — come!
Registration: https://projazz.timepad.ru/event/1230792/
News
No news to display