SashBash. Sparks of Electricity in St. Petersburg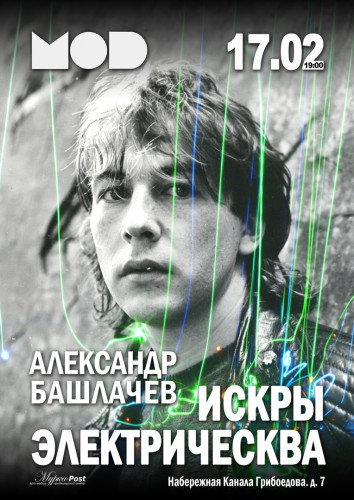 The timing of the festival:
17 February 2021
A visa is required:
Not required for Russian citizens
17 февраля Фестиваль "Александр Башлачёв. Искры Электричества"
ЭлектопартиZаны || Кирилл Комаров || Метанойя || Максим Ермачков || Звонтья || Табаков-Бэнд
Фестиваль-трибьют "Искры Электричества" - это наш коллективный дар, это энергия музыкантов и поэтов сегодняшнего дня - и у них свой голос, свое честное слово, чистое сердце, своя горькая правда и свой святой долг. Искры Электричества - это те, кто сегодня не может молчать...
Club Mod (Канал Грибоедова, 7) || Начало в 19.00 || Антикризисная цена 100 рублей https://vk.cc/bXPJTk
News
No news to display