Concert venue Theatre
Image: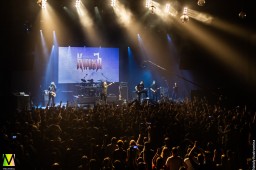 Address:
Barklaya St., 6 str 2
Club THEATRE and concert space, with the possibility of holding events for up to 2500 people, includes 500 square meters of dance floor, 4 bars, 4 dressing rooms and two tiers of balcony with a total capacity of up to 300 persons and a chill-out zone in the small hall of the club for up to 120 people.
Wide input group will help you to quickly overcome the path from the entrance up to 12 metre stage, and 14 meters of free space from floor to ceiling allow you to implement any projects.
Club THEATER is located adjacent to the legendary "Gorbushka", known to fans of rock music across the country.
50 kW sound and the latest technology lighting solutions will not leave anyone indifferent performer, listener and organizer.