Festival Meh Suff!: fine and home-made. // Switzerland, Zurich, Hüttikon-Otelfingen, Hüttiker Mounta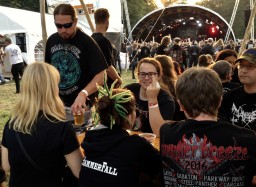 Zurich, the capital of high prices and white collar, able to surprise any metalhead loving "harder". After all, this city is not only hides in itself a very colorful concert venue where not just foot the legends of metal. Backyard metropolis, on a hill covered by forest, pastures and fields where a local farmer grows the succulent corn, there is a festival with an ambiguous name of the "Meh suff!" In the "translation" from Swiss dialect of the "classical" German it sounds like an appeal sauf mehr - namely, "more thump". And this name is slightly confusing, because not the alcohol is at the center of this event, and the excellent music and cozy organized infrastructure. Although, what is really there, no alcohol anywhere: you will find dark and light, a range of longdrinks and a huge selection of meth. No, it is not about meth, but about an alcoholic drink with honey (sounds a bit like the well-known us Mead), which is here very popular and extremely treacherous, if you disturb it with a beer can in a matter of minutes to be in the bushes in a state of living, slightly snoring body.
But back to the main. If you're a fan of death-, black-, pagan - or doom-metal, if you sometimes don't mind hearing juicy grindcore, then you should be here.
The festival is already 11 years old, and is held twice a year. In winter, of course, it takes the form of a two-day event in one of the clubs in Zurich or the surrounding area, but in the summer is unfolding in full and becomes one of the most soulful, open-airs.
Meh suff! gathers approximately a thousand people, lasts two days (Friday and Saturday), held in early September and offers great camping, easy access to a flush toilet and lighting (!), showers where you can close the curtain and even to place all their possessions on a special shelf and not to put everything on the floor, as it usually happens in the festival souls. About to devour Affairs too are very good: Asian food with rice, with noodles, spring rolls, shrimp tempura, American cuisine consists of burgers and Yam fries, and even then you can get a pizza with ham or mushrooms. If you are not satisfied with the suggested range, then you can always hop on the Shuttle, which runs every hour and will take you for five francs in the nearest village (with a station!).
It is worth saying a few words about the campsite. It is each time on different fields, depends on the farmer-owner. Sometimes (like this year) lucky you, and you put on a beautiful green meadow. Except that somewhere visible wormholes. And sometimes (like last year) you instal on a freshly harvested field, where the feet just bare earth, seasoned with a little straw. But the organizers also not stupid, in that year it was very dry and to stand on the field was not problematic. In the same year, nature clearly was appalled by the number of grubby individuals on the hill, and figured it a good to launder pouring rain the entire second day. Field would become a mess, but a green meadow without any problems withstand the water pressure. And then it's time to enjoy that car camping is not allowed, Parking is a little distance, metres in five hundred from the camp. Drag all the good, of course, is not easy. But people approach the problem creatively. One man brought his possessions into this huge dumpster on wheels. What? Easier to roll than to drag on itself.
Another profitable contrast to some other festivals is the presence of a sufficient number of seats. At the festival tent is a large tent, inside of which is perched one of the bars and lots of tables and benches. This year because of the rainy weather was an additional (and very scenic by the way) awning, also covering something like a food court. Thus, in the rain, everyone could shelter under the roof and attach the ass waiting for more optimal weather conditions.
If you wet and/or frozen, at a little distance from the scene, you will not get the huge fireplace, where the flames will gladly dry your clothes and warm your soul. Or cook in your knees, if you're not careful. Well, those who are thirsty for something to play, the organizers brought a game of "gorodki". It has a thousand names, but the essence is the same. Lose, drink, win, drink. Very popular at festivals thing.
Perhaps, the only downside to this festival - it is stupid enough. Just two days is something not even serious. Just tuned in to the festival mood, and it's time to fold the tent and move home. Last year's festival was a jubilee, the tenth. And after that it dragged on for four days. Let's see if, over time, the organizers will still introduce a four-day standard?