Ismakov Sergey G. exercise HAPPY FITNESS PREMIUM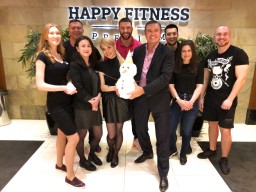 "We know how people become beautiful, healthy and successful"
Classes, when the attention of the coach focused on only one client, are highly efficient and are very popular. For example, in the clubs HAPPY FITNESS PREMIUM amount of the sold personal training in fitness is many times greater than the number of group classes. However, to achieve such a result, to the customer's need to convey information about the benefits of personal training with a coach and the benefits that it will get the client. People who come to train at the fitness club, set themselves to different tasks, such as: reduction of weight, increase muscle mass, improve posture, increase endurance, keeping yourself in good shape.
Of course, sessions with a personal trainer help you achieve the best result for the shortest possible time, and thus the possibility to cause harm to health that cannot be guaranteed when learning is the main thing that you need to convey to a potential client.
In addition to the quick and efficient achievement of its goals, the client can use the service of personal training for the following reasons:
health problems;
stop progress, the lack of results from conventional training
a matter of prestige.
In the promotion of the service "Personal training" in fitness-club have to be involved in club administration and sales staff, the instructors.
There are many types of clients with various deviations in health status. And exercises that are useful for some people, others can cause irreparable harm. For example, a client with a bad back to perform exercises with axial load is not only ineffective, but dangerous.
The instructor should develop a set of exercises most suitable for a particular client, taking into account their individual physiological characteristics.
Staff HAPPY FITNESS PREMIUMрассказывают on personal fitness and acquaint the customers with the instructors. In addition, the club organizes a special promotion in which every customer has the opportunity to work out with a trainer. The club is a lot of advertising materials that describe the benefits of training with personal trainers. The clubs HAPPY FITNESS PREMIUM depending on the goals and objectives posed in front of the client, develop proposal packages, which include different amounts of personal training.
In any case, the number of personal training coach is recommended that pre-planning together with the client, frequency of training and duration.
"And you already signed up for your personal workout? If not then get to HAPPY FITNESS PREMIUM. "We are working on the result, and the result is the health of our customers."