Gender equality in street basketball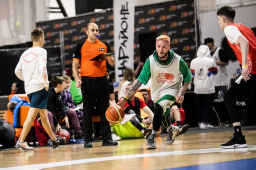 8 December in the Goals supported by the project of youth initiatives #Narayana held a street basketball tournament in the format of "MIX 2x2". This means that pairs can comprise both boys and girls. The tournament is part of a series of events project #Narayana, which aims to support sports and subcultural youth initiatives in different parts of the city.
"Areas of the Ball" — a modern sports complex, which includes 7 play areas that are suitable for both professional athletes and for Amateurs. For all who can not imagine my life without basketball or just wants to learn to possess the ball. 4,300 square feet of high-quality sports flooring, to gather with friends, meet new people who are close in spirit and active life position.
Tournament "MIX 2x2" is our original format, a series of games in the 2x2 format, where a team consists of players of different sexes - one girl and one young man (in the case of replace girl replace the girl, and the man - man). The maximum number of members of the team - 4 people. Rules of the following games. Duration: the game is played 5 minutes "dirty" time (last minute – "pure") or until 12 points. Gameplay: in the protection of the girls play against girls, men against men. On other points of the rules, the games rules of the FIBA 3x3 2018.
The leader of tournament: Artem Saltykov — bright and emotional sports MS, ready to charge participants and fans excitement. Artem is a basketball commentator VTB United League. Experience: ASB, PBC "Rune-basket" (super-1), "Autumn 3x3", the Fireworks Festival, the final Night of the League 1x1 the season 2018-2019,
At the console: DJ Stick — our basketball DJ. He received the diploma on a speciality "the Director of the discos". His performances can be heard on the tournaments, Nike and CSKA, and in the best clubs and restaurants of the capital, where appreciate real hip-hop.
Matches will start at 16:00
Waiting for all fans of street basketball and accurate hits at:
SK Territory "Ball", St. Sharikopodshipnikovskaya, house 13, p. 24.