On 18 and 19 March 2020 in St. Petersburg, there were concerts of the project Nikolai Orlovsky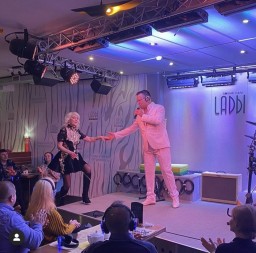 At one of the concerts she performed with a jazz composition of his own "Flying with the wind." The song impressed the audience and other participants that Inessa was invited to be a guest at the solo concert of Valery Novikov and act with the song "Flying with the wind."
Valery Novikov is the author-artist from Petrozavodsk. In the compositions of Valeria has almost all the topics that concern ordinary people: love, the pride of their great country, the pain for the nation, memories of parents and childhood friends, funny stories from life.
She happily agreed to perform at the concert, where as well as guests made wonderful actors Pyotr Sukhov Pavel Chistyakov.
Inessa was late for the concert Valery Novikov in St. Petersburg for two days to March 21.
In connection with restrictions on the number of spectators, the concert was in a small room Sound-Café Ladы, and to get to the concert was not easy. The concert was a great success, the audience applauded long each of the participants.
All performers except Inessa has performed in the genre of chanson, she only played in a different genre - jazz. Jazz will always live in the hearts of true music lovers, and pop singer Inessa has captured the hearts of listeners with so uncharacteristic of her work.