Evgeny Kungurov will produce a "Impression"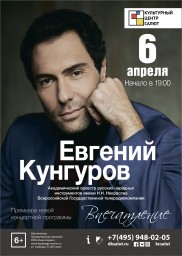 April 6 at the cultural center "Salut" will be held premiere of Eugene kungurova "Impression".
A graduate of the Moscow Conservatory. The actor of theatre "New Opera", brilliantly performing the roles in the plays "the Bat", "the Magic flute", "Rigoletto", "Il Barbiere di Siviglia", "Eugene Onegin", "the marriage of Figaro". Member of high-profile television project "the Big Opera", "one to One" (which was memorable for millions of viewers, brilliantly embodied the image of Muslim Magomayev), "the Voice." Presenter of the program "romance Romance" on the channel "Culture". And all this is one man, one talented artist – Evgeny Kungurov.
That's about it Alexander Gradsky, his mentor in the first season of "the Voice" said, "that voice and that tone, you can sing anything. There is little chance that someone will show the same thing!"
6 April this is an amazing baritone will present to the guests of the Moscow cultural centre "salute" their program "Experience", which will include a variety of musical pieces to reveal the multifaceted talent of the artist. "Impression" the audience is guaranteed: none of the audience heard will be disappointed and will enjoy this spring celebration of music.
To buy tickets:
https://iframeab-pre2535.intickets.ru/node/11004456
Date: April 6, 2019года
Start: 19:00
Place: Cultural centre "Salut"
Address: Svobody str., 37