"New Russian classic" is: "the Window to Paris"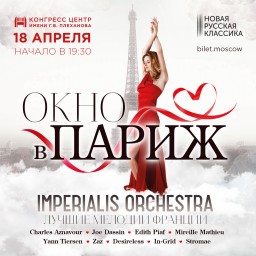 18 April in the Congress center. Plekhanov will be held an extraordinary concert: Imperialis Orchestra and soloist of the Bolshoi theatre Daria Davydova will open for students "a Window to Paris".
Company "New Russian classic" continues the series of brilliant musical experiments, this time on the stage of the Congress center named after Plekhanov will feature the most popular French songs of all time performed by classical Opera singer, soloist of the Bolshoi theatre Daria Davydova and modern, driving ImperialisOrchestra.
And this time the Golden hits of Charles Aznavour and Joe Dassin, Edith Piaf and Mireille Mathieu, which grew our parents, will coexist with the songs today, listen to our children: "Window to Paris" is an opportunity to hear the songs the current idols of the French stage Stromae, In-Grid, Zaz!
Imperialis Orchestra – the most unusual orchestra of Russia, is not just a team of young and talented musicians with a classical education, is a project that offers a completely new view on all the existing musical styles – from classical to the present day.
Daria Davydova – winner of international and Russian music competitions, invited soloist of the Bolshoi theatre, the soloist of Academy of young Opera singers of Mariinsky theatre. For the singer, acting on the stage of Moscow International House of Music, Moscow Conservatory and Concert hall. Tchaikovsky, "the Window to Paris" – as an unusual experience, and for fans of French pop stars – the opportunity to hear new favorite songs and discover them for yourself with a completely different side.
Open "the Window to Paris"! Feel the breath of Montmartre and the unique atmosphere of the Champs elysées! Give yourself a piece of spring lightness, romance and beauty!
To buy tickets:
https://iframeab-pre1943.intickets.ru/node/11009565
Address: Moscow, stirrups per., 28с2А
("Serpukhovskaya")