Advertising on the website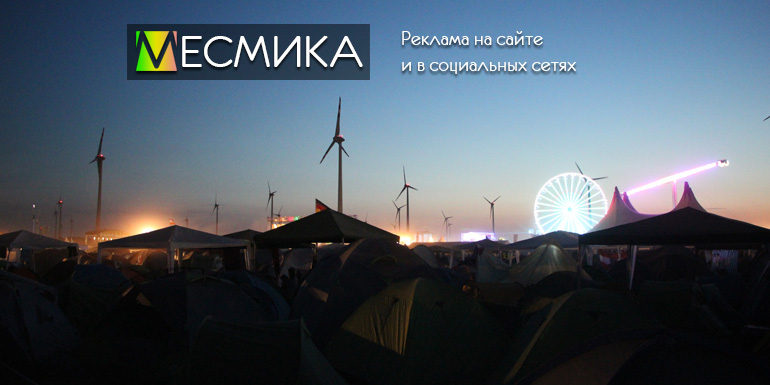 MESMIKA visit devoted fans recognized idols and admirers, cares for young artists and people just interested in the musical world. On our website are exclusive interviews, articles, and reports. The project MESMIKA read visitors interested in attending concerts and festivals.
Banners:
Our target audience are United by one thing – music. That is why you can place a banner advertising a concert, festival, musical instruments, camping gear, merch and all that might connect our readers with music. All banners are to your provided link. The cost depends on the location of the banner and the pages on which the banner is displayed. Price list we will send you upon request.
Photo:
MESMIKA has a huge database of photostaken by talented photographers from different cities. If you want to buy a photo, contact us by mail [email protected]. In the letter specify the name of the photos, number of photos and the rights (exclusive or nonexclusive), and we will send you the cost and form of contract. After payment we will send the processed (or unprocessed) original photograph with a signed Treaty on the transfer of exclusive or non-exclusive rights. The cost of the photo will depend on the type of law experience of the photographer and the exclusivity of the image.
You can also order from our most experienced photographers photo shoot. We work in Moscow, Saint-Petersburg, Nizhny Novgorod, Ufa, Tula, Kaluga, Vladimir. The terms of the photo shoots are discussed individually.
Article:
Talent of eloquence to us not to occupy. You can verify this by opening any of the articles on the website. Exclusive. Now. Figuratively.
You can order an article from our masters of the pen on any music topic (including a review) and subsequently posted on our website. Without posting will be much more expensive :-)
Edits can be done not more than two times. Check the chief editor!
The period of writing up to two weeks, depending on the topic. The cost of writing you can learn by writing to us by e-mail [email protected].
Interview:
We love the people. Love communication in all its forms! So we have a lot of interesting interviews with the artists.
We can help you to make beautiful unconventional interviews both in Russian and in English, and even decipher it! Cost of services relating to the interview, you can learn by writing to us by e-mail [email protected].
-----------------------------
If you have interesting proposals for cooperation are welcome! Contact us by e-mail [email protected]and we believe that with you we will communicate very productive!